Do you love to watch your favorite tv shows and movies on the big screen but can't because the loud sound disturbs others around you? Nope, you don't have to close your tv just yet. You can pair headphones with Samsung smart tv and continue watching whatever you love. With the audio transmitting to your headphones, you won't be disturbing anyone. The solution is very easy, but if you don't know how to connect headphones to Samsung smart tv, you might find it difficult. With the easy steps in this article, you will be able to connect any headphones to your Samsung smart tv.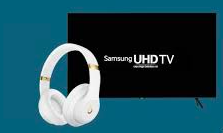 You can also read how to connect your wireless headphones to any tv if you have a TV that is made by a different manufacturer.
Why are Samsung TVs great for connecting or pairing headphones?
TVs are still extremely important in our life even with the extensive screen time we get with our mobile phones and laptops. With the Samsung smart tv, we can get all the streaming applications on the big screen and even use additional features. Bluetooth and Wi-Fi are amongst some of the features that increase the user experience while watching TV. With Bluetooth capability, you can connect your headphones to get better sound quality.
At times it becomes incredibly difficult for you to watch your favorite shows in a living room on the big screen. The loud sound may be disturbing to some, while at times, the show you are watching may have PG language. Rather than not watching the show entirely when your children are around, you can just connect headphones to Samsung TV and continue watching. As you read on, you will find the easiest ways you can connect headphones using Bluetooth. And what to do if your tv does not have Bluetooth capabilities.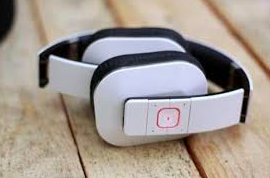 How to connect headphones to Samsung smart tv using Bluetooth?
If your Samsung smart tv has Bluetooth capabilities connecting your wireless headphones, Samsung smart tv becomes fairly easy. Most Samsung-manufactured smart TVs have Bluetooth feature that allows users to connect additional audio devices to their tv directly. The steps below will allow you to easily connect your headphones with a Samsung tv.
The first step is to get your Bluetooth headphones and turn their Bluetooth pairing mode on. Depending on the kind of headphones you have, this step will vary for you. In most headphones, you will have a Bluetooth button that you have to press and hold. While in others, the power button acts as the Bluetooth button. The best way you can be sure of how to put your headphones in pairing mode is by referring to the user manual of your headphones.
Use the remote of your smart tv to access the settings menu.
Look for the option labeled as 'Sound Output.'
Go into 'Speaker List'
Click on 'Search & Select'
Look for your headphone name and click on 'Pair & Connect.'
Once you are connected, your headphones should change indicator lights, and you should be able to hear the audio through your headphones. You can use your remote to control the volume. This way is absolutely great to watch a show in privacy on the big screen and block outside distractions.
How to use headphones if your TV does not have Bluetooth functionality?
In the case that you have Bluetooth headphones but lack the Bluetooth connectivity feature in your smart tv, you can still connect your headphones. You can use the Bluetooth audio adapters to pair headphones with Samsung smart tv. With the Bluetooth adapters, you can get additional benefits, and the steps below can help you connect your headphones.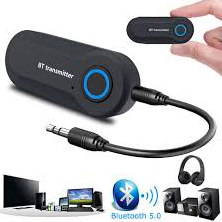 Steps to connect headphones with Bluetooth adapter
Turn your Bluetooth adapter on by connecting it to the power
Use the cables provided with the adapter to hook it up to your tv
Switch your headphones on and make sure that they are in pairing mode
Make sure that your adapter is in pairing mode
Keep as minimum a distance as possible between both devices
The headphones should now connect automatically
In the case that you are using Digital Optical Connection, you should change your audio format.
Access the settings in the TV menu and select PCM as the output.
You should now be able to use your headphones with your TV.
Benefits of using Bluetooth Adapter
People often believe that using a Bluetooth adapter is a hassle depending on what you are used to. This may be true, but using the device comes with a few perks. First of all, the Bluetooth adapter allows you to connect multiple headphones to a Samsung tv. This way, you can have someone else watching TV with you or connect headphones and a speaker to your tv. You can also get a much larger Bluetooth range giving you additional access around your house.
The use of Bluetooth adapters is also beneficial when you are using Roku Devices. You can read How to connect Bluetooth headphones to any Roku devices if you are a frequent user.
What is stopping your Bluetooth headphones from connecting to your Samsung smart tv?
Sometimes you are doing everything right but still do not see 'successfully connected' under headphones. They may be visible within the range of your TV when you access the menu but cannot pair due to some reason. Below are a few problems that may occur when you use Bluetooth headphones with Samsung smart tv.
Limited range
At times users have complained that their headphones alternate between connected and disconnected even when it has successfully paired with the tv. The most common troubleshooting to this problem is that your headphones and tv are too far apart. You can try moving closer to the tv to solve this problem. However, if the problem continues, it might be a good idea for you to have a professional check your headphones out.
Headphones do not connect
It is possible that your wireless headphones Samsung smart tv just don't connect. As frustrating as it might be, it is possible that your headphones are not compatible with smart TVs. Many headphones manufacturers create headphones with the intention of being connected to a mobile phone. This can mean that when you try connecting to your smart tv, the connection is unstable.
Conclusion
It is extremely easy to use Bluetooth headphones with Samsung smart tv as the latest tv models are extremely user-friendly. They have been built with the latest features and options that allow you to stream content on your favorite applications. You can also browse the internet and stream YouTube all from the comfort of your sofa. With the wireless headphones Samsung smart tv, you never have to worry about disturbing anyone else. The steps in this article will allow you to connect easily with your favorite headphones and watch your favorite shows with dynamic sound.