Many users find it difficult to connect Beats products to their devices. Beats is considered one of the best companies manufacturing headphones. The audio quality is great, but at times it can be tough for the users to use. By the time you have completed this article connecting beats Bluetooth headphones will be extremely easy for you. Once you are done, you will know How To Pair Beats Headphones, Earbuds & Headsets to Any Devices.

However, if you have headphones that are from the manufacturer Bose Headphones, you should instead be reading, How To Pair Bose Headphones to any devices?
The different types of Beats in the market
People have loved the products by beats since they were first introduced in the market. Many professionals love to use them in their studios which is why they have become popular with music lovers. There are many products available in the market. Before you know the correct way of connecting beats Bluetooth headphones to any device, it is important to know more about the product you are using.
Beats Studio
The beats studio3 is around $350 and are great for those looking to block out the surroundings. The studio has noise cancellation and provides more than 20 hours of playback time. Available in 7 different colors, this is for those that love to have more options.
Beats Solo
The solo3 currently retails for just under $200. They are comfortable and are reported to provide over 40 hours of playback time. The headphones are infused with class 1 wireless technology enabling faster pairing. If you are looking to buy them from the official website, you can get them in 3 different colors.
Beats X
Perfect for daily use with a cable/wire connecting both earbuds and Bluetooth capabilities. The BeatsX is popular with people who work out or those who do not prefer using Bluetooth earbuds. They are strong, durable, and come in both black and white.
Powerbeats
The Powerbeats provide a much more secure fit due to the ear hook design. They are adjustable and provide sound quality that is similar to the Beats X. The Powerbeats are currently on offer for $180 and provide 9 hours of playback time.
What you should know before you Pair your headphones?
When you are connecting your beats headphones to any devices it is important that your Bluetooth headphones are discoverable. You can use your manual to locate the power button on your headphones. Once you know where the power button is, it will become easy for you to place your headphones in pairing mode. All you have to do is press and hold the power button. You will see the LED light blink which indicates that you are in pairing mode. You are now good to go to follow the device specific instructions on connecting through Bluetooth.
Pair Beats with Android
Pairing beats to android can be really easy. Follow the instructions below, and you will easily be able to pair your android to your Bluetooth beats headphones.
Switch your mobile on and select Settings from your App Drawer.
Click on Connections or Wireless and Network
Toggle the Bluetooth option to ON and tap and hold to open the Bluetooth settings.
Click on Scan or Pair New Device
Pair Beats Headphones from available devices
You should hear a beep in your headphones as an indicator of a successful pairing.
Pair Beats with iOS/iPhone
Through these few steps, you can connect your beats to any iPhone or iOS device.
Click on the setting icon
Enable Bluetooth by clicking on the toggle switch
Choose your beats device from the list marked as My Devices.
Headphones will now be paired successfully.
Pair Beats with windows
The steps below will show you how to connect beats with windows.
Click on the windows icon on the desktop and click on All Settings.
Type Bluetooth in the search bar and click enter
Click on Bluetooth and other device settings
Click on Add Bluetooth or other device, and check Bluetooth is toggled on.
Select Bluetooth from Add a device screen
Once you see a list of available devices, choose Beats Headphones.
Bluetooth connect beats headphones successfully.
Note: It is important that you note whether your windows device has Bluetooth feature. Many older versions of the devices do not have built-in Bluetooth capability.
Pair Beats with Mac
As you read on, you will find the steps that will easily allow you to Bluetooth connect beats headphones easily.
Select System Preferences from the menu. You also select the option from Dock.
Choose Bluetooth
Choose the headphones you are looking to pair.
Pair beats Bluetooth Headset, and the status will show as connected
You can now use your headphones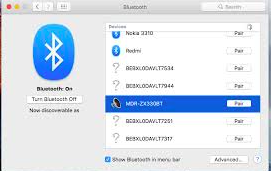 Pair Beats with Chromebook
This method can enable you to use Bluetooth headphones on a Chromebook.
Click on the time icon, which you will find in the lower right corner of your screen.
You will then see the Bluetooth icon. Select it.
Select your beats headphones from the list
Follow the onscreen instructions to pair beats Bluetooth headset.
Pair Beats to PS4
If you are a gamer, you can use your Beats Headphones on your PS4. This can easily allow you to beats Bluetooth earbuds connect by following a few steps.
Click on Setting
Choose Devices
Tap on Bluetooth Devices
Connect to your headphones
Note: if you cannot connect your headphones to your PS4, it may be due to the fact that your headphones are not compatible. You can use a dongle in this situation to pair your headphones.
Pair Beats to Peloton
This method will help you connect your Beats headphones to Peloton.
Select the settings icon
Select the Bluetooth Audio option
Ensure that your Beats are in pairing mode and close to the device
Click on 'Locate your Headphones'
Click Connect
Beats Bluetooth earbuds connect now successful.
Benefits of using Beats Headphones
Beats is a brand that focuses on providing high-quality headphones at an affordable price. The brand offers multiple products ranging from headphones to earbuds. This is perfect for any consumer as it offers a lot more choice. A user can buy the kind of Bluetooth audio device they are looking for and use them with any device. As you read on, you will find a few of the benefits that are offered with every Beats product.
However, if you are using headphones from a different company, you should definitely read, How To Pair Jabra Headphones to any devices?
Audio Sharing
Past times allowed us to share what we were listening to with the person next to us. This was not possible with normal Bluetooth headphones. Normally only a single pair of headphones can be connected to a device. However, beats offer users the option to share their audio. Beats headphones can be connected to multiple devices, which ensures that you can listen with someone else.
Easy access
Being wired is a thing of the past. Using wired headphones on your laptop or pc confines you to the workstation. However, with beats Bluetooth headphones, you can roam around the room while listening to your favorite tracks. The easy accessibility gives you a lot more mobility and allows you to move around.
Last longer
With Bluetooth headphones, you just don't have to worry about your headphone jack breaking. A regular headphone jack has around 5000 in and out cycles before they stop working. Wires can break, and the audio jack can malfunction. However, with Bluetooth headphones, as long as you use precautions, they can be used without any hassle. They last longer and are worth the money you spend on them.
Conclusion
With the information above, you will be able to pair your beats headphones to any device you wish. Life would become easier for you, and listening to your favorite music would be so simple. Once you know how to pair beats headphones to any device, you are not restricted to where you can use the headphones.
However, if you have Sony headphones, you should be reading How To Pair Sony Headphones to any devices? With this article, you will be able to find detailed information about the kind of headphones and earbuds that Sony makes.