Are you still watching TV the traditional way? Do people get disturbed when you are watching TV around people? You can easily stop others from complaining when you are watching your favorite shows by using headphones with TV. You might not know this, but you can connect your wireless headphones to your television and enjoy all your favorite shows. You do not have to use your mobile phone or your small laptop screen to binge-watch when you have a much better option.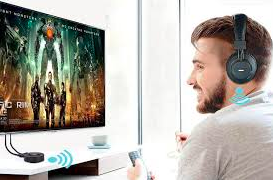 Those late nights can be pretty exhausting when you have to keep the volume low on your tv and have to read subtitles to understand what the actors are saying. Rather than working so hard and completely spoiling the experience of watching a great service, you can use Bluetooth headphones with TV.
In the case that you have a Roku device, you can read how to connect Bluetooth headphones to any Roku devices. The article can help you specifically connect headphones to your Roku devices. 
As you read on, you will find the answer to how to connect your wireless headphones to any tv.
How do wireless headphones connect to TV?
Owning a pair of wireless headphones is one of the best investments you will ever make. The headphones allow you to wirelessly connect with any device and are perfect to be used as the output to your TV. Wireless headphones use Bluetooth functionality to connect to the device of your choice. However, it is important that the device you are connecting has Bluetooth built in that is compatible with your headphones.
In the case that you cannot pair headphones with tv using Bluetooth, you can always use a Bluetooth adapter. Carry on reading to find the ways you can connect your wireless headphones with tv.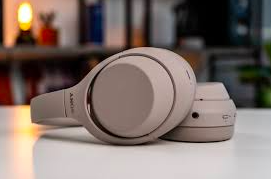 How to connect headphones to any TV?
There are different ways that you can use to connect headphones to any TV. As you read on, you will find the different ways that you can use Bluetooth headphones with tv.
Smart TV
A smart Tv is one of the easiest ways to make sure that you can use your headphones to listen to the audio output of your TV. Most smart TVs have a built in Bluetooth feature, which allows the user to directly connect with the television. The connection is stable by using this method and maintains the quality of sound. You can connect to a smart tv by following the instructions below.
Make sure that your headphones are on
Use the user manual to put your headphones in pairing mode
Access the settings icon on your smart tv
Click on sound
Move your cursor to 'Sound Out.'
Access the Bluetooth option
Click on the device selection
Select the name of your headphones from the list of available devices
Once the connection is successful, you will see the name of your headphones in the paired devices section
Enjoy using your wireless headphones tv
In some cases, the way to connect wireless headphones to a smart tv may be different. This may be due to you having an older model or a different brand of tv. You can read, How to Connect Headphones to Samsung Smart TV for specific instructions to connect headphones to a Samsung smart tv.
Roku
A Roku device is great if you have an older tv but still love to have access to all the latest features in a television set. Through the device, you can get yourself all your favorite streaming applications and more channels than you can count. You will still have to pay for the streaming charges, but you no longer have to strain yourself watching the series on a small screen. Through a Roku application, you can pair headphones with tv and enjoy watching your show in privacy.
Use the play store or app store to install the Roku application
Connect your Roku device and your phone to the same Wi-Fi network
Put your headphones in pairing mode
Access the detected devices list
Select your headphones from the list
Navigate to the bottom of the screen and click on Remote Tab on the application
Click on the headset icon
Enjoy streaming audio
Bluetooth Transmitter
In the case that you do not have Bluetooth built into your tv or that you are looking to connect multiple headphones or output devices to your tv, you can always use a Bluetooth transmitter. It is a device that makes wireless listening extremely accessible. You can opt for this option as a cheap alternative to buying a new tv that is compatible with wireless headphones tv. Through this device, you will be able to pair headphones to your tv that are in close proximity.

Connect your Bluetooth Transmitter to a power source
Connect your Bluetooth transmitter to the tv using the connection cables provided in the box.
Go to the menu on your tv
Hop down to the 'Sound'
Go to speaker settings
Select TV Sound Output and toggle to Off
Make sure that your Bluetooth transmitter and headphones are in pairing mode. Having both headphones and Bluetooth transmitter in close proximity should pair them together successfully
You can now adjust the sound on your headphones using your tv remote
Should you use wired headphones instead?
Using Bluetooth headphones allows you to move around freely. It is a great way to connect to your television and can allow you to enjoy your favorite shows with ease. However, if you do not have wireless headphones around and still want to watch your favorite show without disturbing those around you, then you can use wired headphones. However, having a long wire connected to the television can make it hard for you to move around. And most users don't believe that it is worth the hassle.
However, using wired headphones can become easier for you if you are using a Roku device. You can use the audio jack of your headphones and connect it to the Roku remote. This way, you can connect your wired headphone to the TV and still move around as long as you have the remote with you.
Conclusion
It is tough to replace your television if you are looking to connect your wireless headphones to any tv. Not having built in Bluetooth features can create many problems for the user. The alternative is either listening to your television on loudspeakers or using a mobile or laptop to watch your favorite movies or shows. With the use of a Bluetooth transmitter or a Roku device, you can connect your headphones to any television. You can use your headphones with tv and truly enjoy a new way to stream your favorite content on a larger screen than what you are used to.