It takes more than simply learning to play the strings to become a proficient guitarist. You need practice, and a lot of it. But external noises might increase negative resistance, especially when practicing. In addition to this, you also need the best guitar headphones if you want to hear the sound of your instrument properly.
It might become difficult to practice when your roommate is asleep or busy studying. You also don't want the sound of your loud guitar to disturb the neighbors or wake them up. Well, there is a solution, and that is getting the best headphones for an electric guitar amp.
These headphones enable you to clearly hear every note you play when they are coupled with the guitar's amplifier, without disturbing others. In this article, we'll examine the best headphones for an electric guitar amp, hoping to help you choose what to buy.
But before we begin, if you are actually interested in buying headphones for a bass guitar, read our article below:
Best Headphones For Bass Guitar in 2022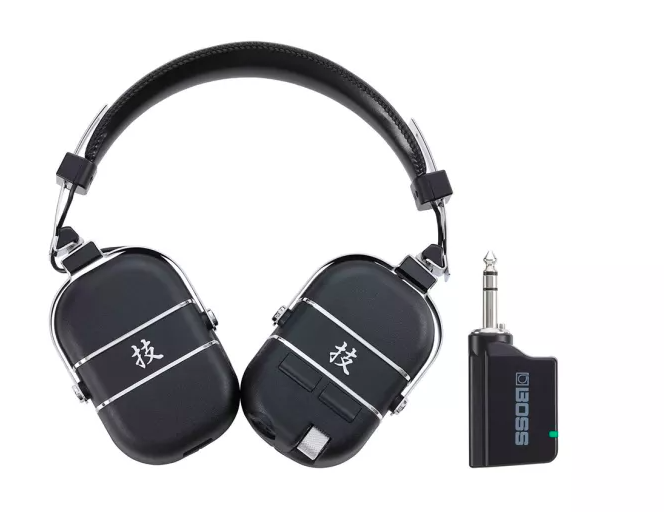 1. Boss Waza-Air Wireless Personal Guitar Amplification System
Specifications:
Number of Channels: Single channel, 5 x Amp Voices
Speakers: Swivel Earpads with 50mm Drivers
Inputs:1 x 1/4″ TRS Plug (WL-T transmitter), Bluetooth (headphones)
USB:1 x Type Micro-B (charging)
Features: Onboard Tuner, Gyro Sensor with 3 x Ambient Settings
Software: Boss Tone Studio app (Android, iOS)
Power Source: Rechargeable Lithium-ion Battery
With the BOSS Waza-Air wireless headphone amplifier system, guitar practice has just reached a whole new level. Waza-Air combines BOSS's cutting-edge wireless technology, revolutionary spatial technology, and the finest sounds from its Katana amplifier family. The studio-grade headphones and low-latency WL-T wireless transmitter from Waza-Air provide unrivaled audio quality, and its cutting-edge 3D algorithms give your headphone practice sessions new life and space by simulating three different performance environments. Waza-Air allows you great control over your tone for almost endless creative exploration. It has five interchangeable amp combinations and more than 50 effects that can be adjusted.
Apart from this, this pair of headphones comes with many other great features. You will get the perfect sound from these studio-quality headphones with 50mm drivers and a low-latency BOSS WL-T wireless transmitter. This comes along with up to 5 hours of nonstop playtime because of its rechargeable lithium-ion battery. Your favorite tunes may also be streamed through Bluetooth, and these headphones also have built-in playback and volume controls, making them convenient to use.
You also have the option to select from the Surround, Static, or Stage virtual environments.
If you decide to buy these headphones, you can also use the free BOSS Tone Studio App to get a variety of ready-to-play presets. Furthermore, it comes with six memory slots allowing you to store custom settings. The durable build of these headphones with a foldable form and chrome-plated metal components makes them one of the best headphones for playing guitar.
What we like about it:
It has great tones and effects.
It is completely wireless.
It allows for sound editing using a smartphone.
What we don't like about it:
It may be just a little too overwhelming for people who do not need all of these features.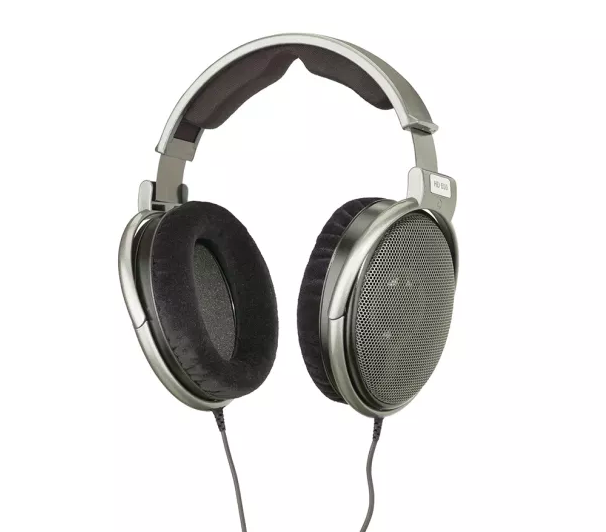 2. Sennheiser HD 650 Open Back Professional Headphones
Specifications:
Type: Wired
Fit Style: Around the Ear
Driver Size: 42 mm
Impedance:300 ohms
Connectivity: ¼ inch plug, 1/8 inch adapter
Cable Length: 9.8′
Color: Black
Material: Velour Earpads
Weight: 0.57 lbs.
Audiophiles who buy the Sennheiser HD 650s will hear absolutely exceptional, natural sound. The HD 650 also sets benchmarks for all headphones in terms of comfort and ease. Finished in a premium titanium/silver alloy, these headphones are highly durable. Another prominent feature is the acoustic silk that has been specially created for accurate, uniform attenuation over the whole space. Its highly conductive, oxygen-free copper connection cable that is detachable, specifically modulated, Kevlar-reinforced, and has a very low handling noise, makes these headphones a great choice for electric guitars.
Due to the elliptical form that is fitted to the contour of the ears, it is exceptionally comfy to wear. You can also directly link these headphones to high-end stationary hi-fi equipment such as CD, SACD, and DVD-A players. Unfortunately, because of its open-back design, it doesn't restrict sound leakage as well as other headphones. However, it's still enough for you to not get any complaints you're your neighbors. To sum it up, it is a high-end, open, dynamic headphones for music, a great contender for the title of best headphones for playing guitar.
What we like about it:
It has been designed specifically for audiophiles.
Its definition cannot be matched.
What we don't like about it:
It costs a bit more than what most people may be able to pay.
It does not prevent sound leakage as much as other closed-back headphones.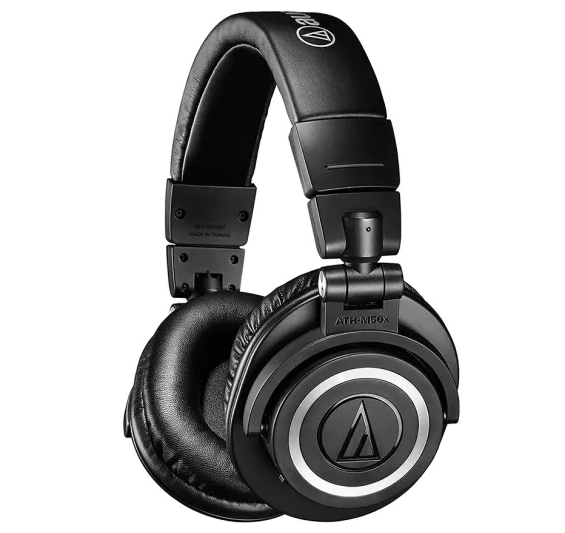 3. Audio-Technica ATH-M50xBT2 Headphones
Specifications:
Type: Wireless
Fit Style: Around the Ear
Driver Size: 45mm
Impedance:38 ohms
Connectivity: Bluetooth v5.0, Optional 1/8″ plug
Cable Length:3.9 ft.
Detachable Cable: Yes
Built-in Mic: Dual Microphones
Power: Rechargeable Lithium Polymer Battery
Battery Life: Up to 50 hours
Color: Black
Weight: 0.67 lbs.
Looking for a great deal on a pair of professional headphones? Another one of our recommendations would be the Sweetwater: ATH-M50xBT2 closed-back headphones. With 45mm neodymium magnet drivers, the top-of-the-line M series headphones from A-T are popular sellers. These headphones provide the exact frequency response and amazing detail you need to make the right choices while you're recording, mixing, or DJing. The circumaural earpads, along with the high-quality earpad and headband materials, provide you with comfort throughout really long sessions, and the closed-back design provides you with great isolation and less sound bleed. You have a winner when you take into account their compact foldable design, swivel earcups, and Bluetooth connectivity.
Sonic Bluetooth performance and build quality of these headphones have received high praise from audiophiles. Not only this, its built-in microphone makes taking phone calls simple. The sounds of the earphones span the whole frequency range, and it is tuned for a flat response and greater precision. It allows for easy one-ear monitoring because of its earcups that rotate 90 degrees. When you buy this, you will also get a 3.9-foot detachable stereo audio cable, carrying bag, and USB charging cable. The Audio-Technica ATH-M50xBT2 headphones are the right choice for those of you who are looking for a pair of excellent amp headphones.
What we like about it:
The company is highly trusted, making this a safe purchase.
The frequency response is guitar-friendly.
It comes with a foldable design, making it easy to carry around.
What we don't like about it:
The quality of the cord that comes with it is not that great.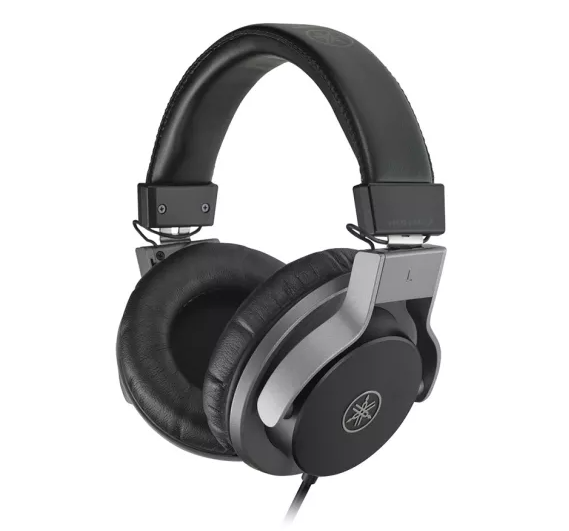 4. Yamaha HPH-MT7 Headphones
Specifications:
Type: Wired
Fit Style: Around the Ear
Driver Size: 40mm
Impedance:49 ohms
Connectivity:1/8 inch and ¼ inch adapter
Cable Length:9.8 ft.
Detachable Cable: Yes
Material: Synthetic Leather Earpads
Weight: 0.8 lbs
Yamaha's HPH-MT7 Studio Monitor Headphones are intended to highlight the problematic parts of your audio, much like the NS-10s did before them. These high-performance headphones will assist you in putting the final touches on your mixes and presenting your product in a realistic manner both in the studio and on stage. Full-range 40mm neodymium dynamic speakers are included in Yamaha HPH-MT7s to provide precise sound reproduction over the entire audible spectrum. In addition to this, long mixing sessions won't be tiring or comfortable, owing to their soft ABS headband, ear cups, or pads. When you buy this, a travel case, a detachable cable that's 10-foot long, and a 1/4″ adapter are all included with the Yamaha HPH-MT7s. The only possible drawback is that, like the monitors they were modeled after, they could be a bit too flat. However, if you've already tuned in the optimum guitar tone, that might well be for the best.
What we like about it:
It is inspired by the classic Yamaha monitors.
These headphones are very dynamic.
What we don't like about it:
The cable of these headphones cannot be replaced.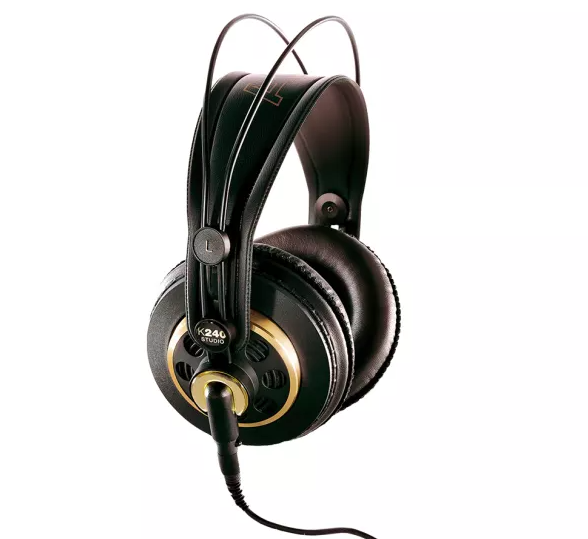 5. AKG K240 Studio Headphones
Specifications:
Type: Wired
Fit Style: Around the Ear
Driver Size: 30mm
Frequency Response: 15Hz-25kHz
Impedance: 55 ohms
Connectivity: 1/8 inch plug and ¼ inch adapter
Cable Length:9.8′
Detachable Cable: Yes
Weight: 0.52 lbs.
It makes sense that professional engineers and musicians have preferred AKG K240 Studio headphones for more than 20 years, given their dependability, comfort, and accuracy. You get an incredibly broad dynamic range, astounding clarity, and incredible sensitivity from their distinctive semi-open architecture and highly effective transducers. Because of this, we have never hesitated to endorse K240 Studio headphones, particularly when it comes to mixing and critical listening.
You will also get extreme precision because of the semi-open-back design, that too, without compromising acoustical isolation. You can also get the ideal fit and not compromise comfort thanks to a self-adjusting headband. Its mini XLR jack allows for easy replacement of the 10-inch cable. Apart from this, earcup replacements are readily available as well. We're confident you'll like the sound, feel, and performance of AKG's K240 Studio headphones, whether you're sitting in the engineer's chair or on the other side of the glass, making these great electric guitar amp headphones.
What we like about it:
It offers quality at a reasonable price.
It is made by headphone specialists.
It has a self-adjusting headband design.
What we don't like about it:
Other options on the list are more affordable.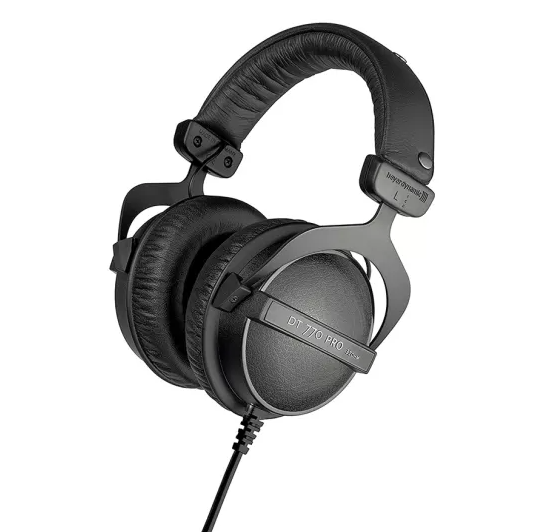 6. Beyerdynamic DT 770 PRO Studio Headphones
Specifications:
Type: Wired
Fit Style: Around the Ear
Frequency Response: 5Hz-35kHz
Connectivity:1/8 inch plug and ¼ inch adapter
Cable Length: 9.8 ft.
Material: Velour Earpads
Weight: 0.6 lbs.
These closed studio headphones from Beyerdynamic, the DT 770 Pro, deliver studio-quality sound for whoever chooses to buy them. The Beyerdynamic DT 770 Pro headphones are designed to give accurate sound while offering a very comfortable fit with its Soft velour head pad. This is a true need for extended sessions, whether you're on the recording floor or in the control room. The outstanding 5Hz-35kHz frequency response and closed-ear construction reduce outside noise and properly position the headphones' speakers according to your ears.
The headphones have a sturdy design with a spring steel headband, making them very durable. It is also easy to keep these headphones in good condition since all of the parts are easily available and can be replaced. When you buy the Beyerdynamic DT 770 Pro headphones, you also get a straight connection cable measuring 9.8 feet, a gold-plated 1/4″ adapter and 1/8″ TRS adapter, and a drawstring bag for storage. Beyerdynamic's DT 770 headphones are an excellent option as electric guitar amp headphones since they are made to last and operate reliably.
What we like about it:
These headphones are very popular.
They have a lot of detail.
What we don't like about it:
When you raise the volume, chances are, the headphones may slightly bleed.
These headphones are a little pricey.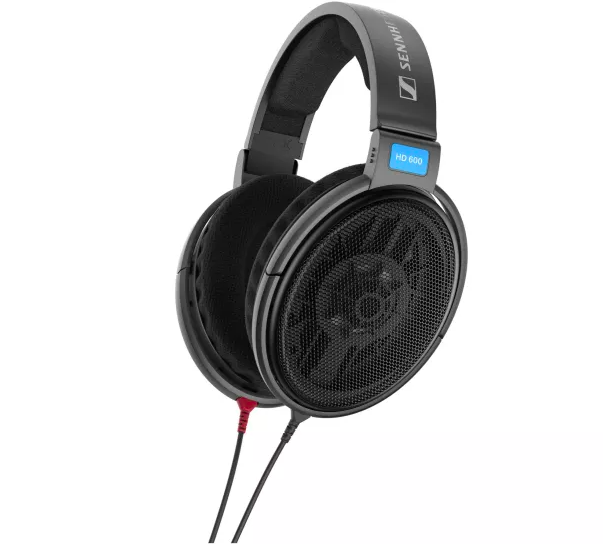 7. Sennheiser HD 600 Headphones
Specifications:
Type: Wired
Fit Style: Around the Ear
Frequency Response: 12Hz-39kHz
Impedance: 300 ohms
Connectivity: 1/8 inch plug and ¼ inch adapter
Cable Length: 9.8 inch
Detachable Cable: Yes
Material: Velour Earpads
Weight: 0.58 lbs.
The HD 600 open, dynamic professional stereo headphones, a favorite among our most demanding audiophile customers, are the perfect option for the pro-audio engineer who wants to record classical music. The best performance is ensured by exacting design criteria. There are computer-optimized magnet systems to reduce harmonic and intermodulation distortion, high-quality open metal mesh earpiece coverings for exceptionally clear sound, and incredibly light aluminum voice coils for a superior transient response.
These headphones deliver a stunningly equal and balanced sound, from the bass to the treble. Due to their 12Hz cut-off, they don't quite reach the sub-bass region, but you won't likely come close unless you play a 5-string bass guitar. You'll be astounded by the clarity of these headphones as well as how much detail they have for the price.
Furthermore, the build quality is excellent. Although they are made of plastic, they seem really durable, and to keep everything feeling nice and substantial, a metal band runs across the headband assembly. The high-quality velour used to make the ear pads will be gentle on your ears over those extended playing sessions, making them a great choice for an electric guitar headphone amp.
What we like about it:
They offer great sound quality.
They give an even frequency response.
What we don't like about it:
They do not do sub-bass.
They are a little expensive.

Conclusion
There you have it! Our top 7 picks for the best headphones for an electric guitar amp. Go over these options carefully before you go to buy your next pair of headphones. Once you choose one according to your liking, there is nothing coming in between you and your guitar sessions.

If noise-canceling is what you're looking for, find out what are The 12 Best Noise Cancelling Headphones. You can also read this article to find out more about CVC noise canceling.