Many individuals prefer earbuds over their larger and heavier headphone equivalents because they are more portable and convenient. However, the majority of them have to face the issue of keeping the earbuds in, especially when they jog, exercise, or are engaged in any other strenuous activity.
This is not only an irritating but also a frightening experience. If you have wireless earbuds that keep falling out, you're constantly worried that you'll lose them and waste money in the process. Many times, we are left wondering about how to keep earbuds from falling out.
Fortunately, there are a lot of techniques to this solve this problem, and this article will walk you through them all. 
We are here to tell you the best way to keep earbuds in ears, and not just with one solution but six different techniques. Here is how to prevent wireless earbuds from falling out, keep the music playing, and keep those pricey earphones in their proper place.
But before we jump into the details, why not go over the basics once?
Click on the link below to find out
How to Turn Off Headphone Mode In Android & iOS
If you're not really a phone person and prefer using your headphones on your laptop, click below to learn
How To Use Lightning Headphones on Laptop
Why Do My Earbuds Keep Falling Out?
You can't prevent wireless earbuds from falling out without knowing why it keeps on happening. Well, simply put, everyone's ears are different, and most earbuds are designed to fit a "standard" ear canal size. This implies they'll fit most of the time for most of us.
Keep in mind that earwax, temperature, and the anatomy of your ear can all affect the fit. When you add in quick motion and perspiration getting into your ear, it's pretty easy for those earbuds to fall out.
And that's not all; sometimes we haven't exactly bought the right thing we need. Not all earbuds are designed to endure sports that involve a lot of jerking and jolting. Certain earbuds may not remain in place no matter how often you adjust them, so finding ways how to keep earbuds from falling out is futile.
Basically, if you're going to use your earphones for certain activities like working out, you should choose devices that are specifically designed for such activities.
How To Keep Earbuds From Falling Out?
Make sure you are wearing your earbuds correctly.
This is said to be the easiest and best way to keep earbuds in ears. All earbuds are made to fit into your ears in a specific way, so play around with the fit and look for indicators on the outside that indicate how you should wear them.
Examine your earphones for "left" and "right" marks, then twist the earbud in your canal until it feels secure. Some earphones will include additional instructions on how to wear them. AirPods, for example, should be inserted such that the "sticks" face your mouth at a 45-degree angle.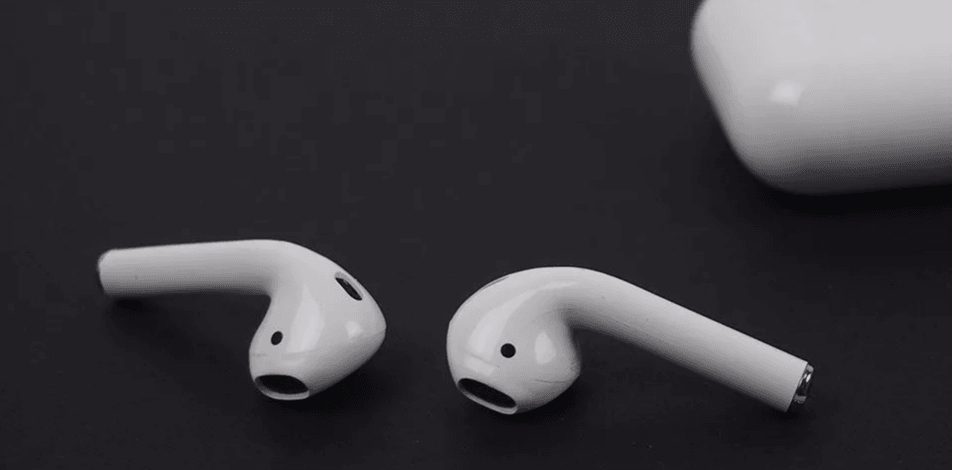 In-ear monitors need a little more work to put on than earbuds since they must be placed into your ear canal. Look for the letters "L" and "R" on each earbud, and then insert each ear tip on the right ear. Pull your earlobe down using your other hand. Once this is done, gently push the ear tip farther within the ear canal to install them. Adjust the IEMs as needed.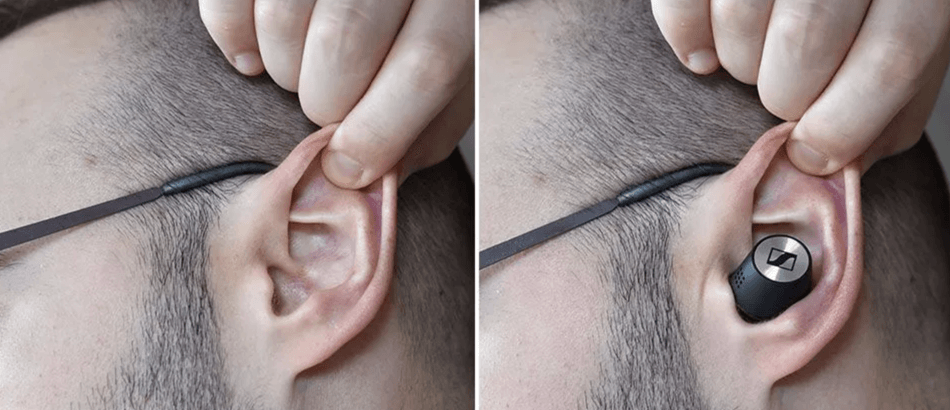 If you're using IEMs, make sure you have the right ear tip.
It's critical to choose the right earbud tip size. Replaceable tips of various sizes are supplied in the box of most IEMs. 
While most IEMs come with ear tips that are medium-sized, you should try out all of the different ear tips to find the one that best suits you.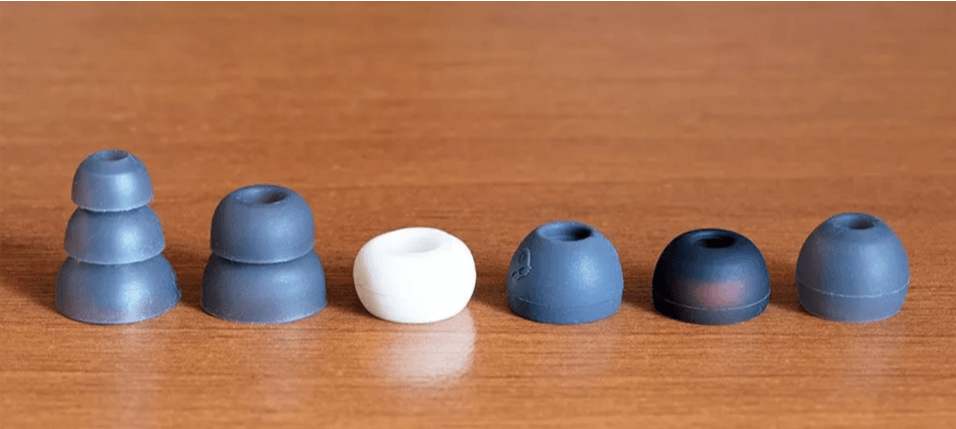 Try some third-party alternatives if none of the ear tips that come with your earphones fit you.
Try other sizes if your ears feel too loose or too tight. If none of the included ear tips are comfortable, you may choose to purchase a different pair.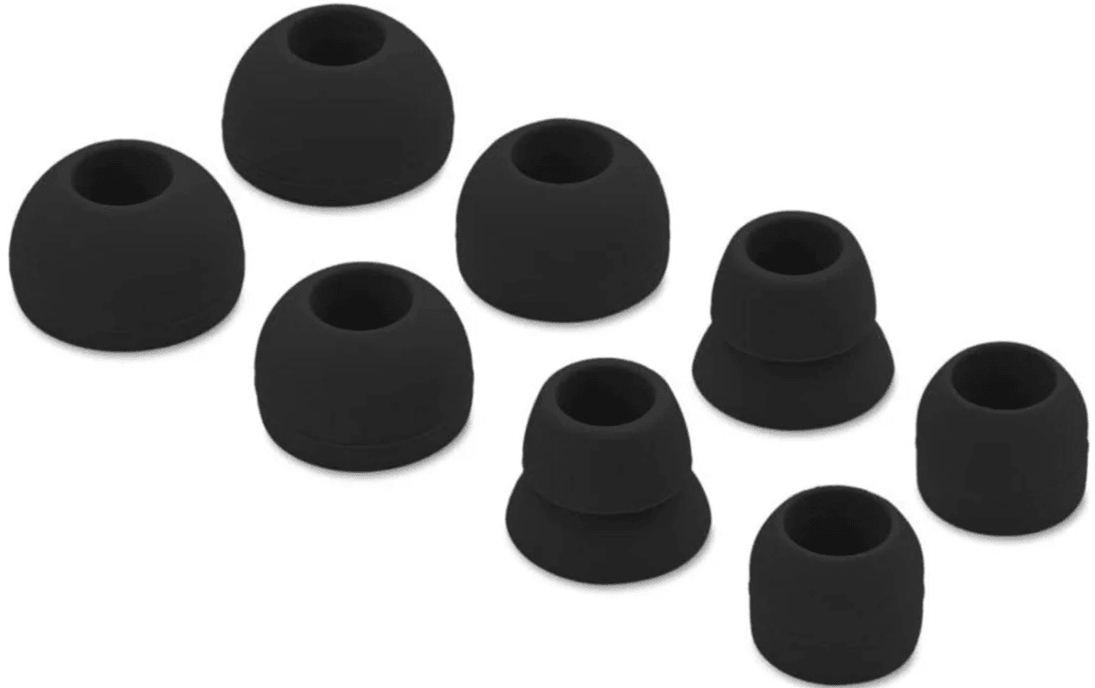 You may also upgrade the ear tip material to memory foam tips for improved sound isolation, comfort, and fit when upgrading.
But how exactly will you know that your ear tip isn't the right pick for you? Here are two simple ways:
When you put earphones in your ears, you should notice a significant reduction in background noise.

A weak bass indicates a weak seal. A good fit is also indicated by the quantity of bass.
Try not to use cotton swabs to clean your ears.
Cotton swabs (Q-tips) push earwax deeper into your ears, increasing your risk of ear infections, including the swimmer's ear.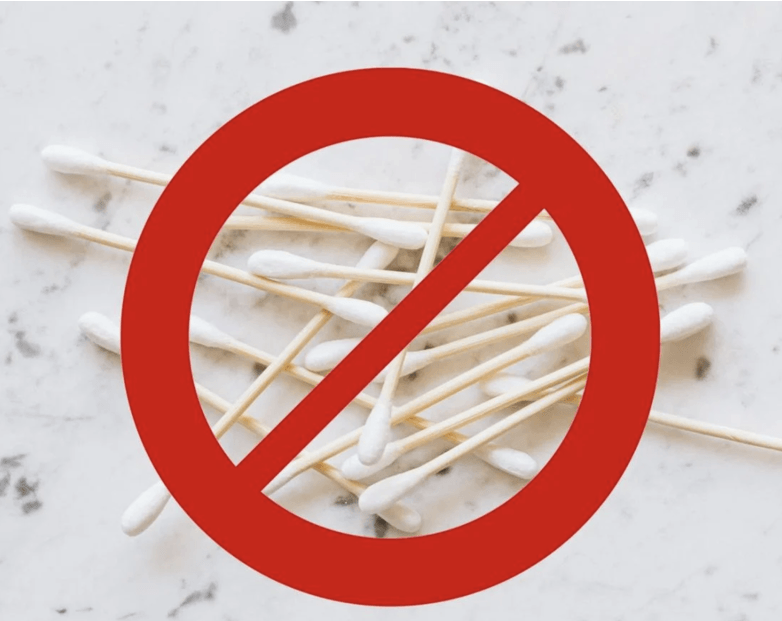 Furthermore, the wax may make using earphones exceedingly painful by pushing wax up towards the eardrum.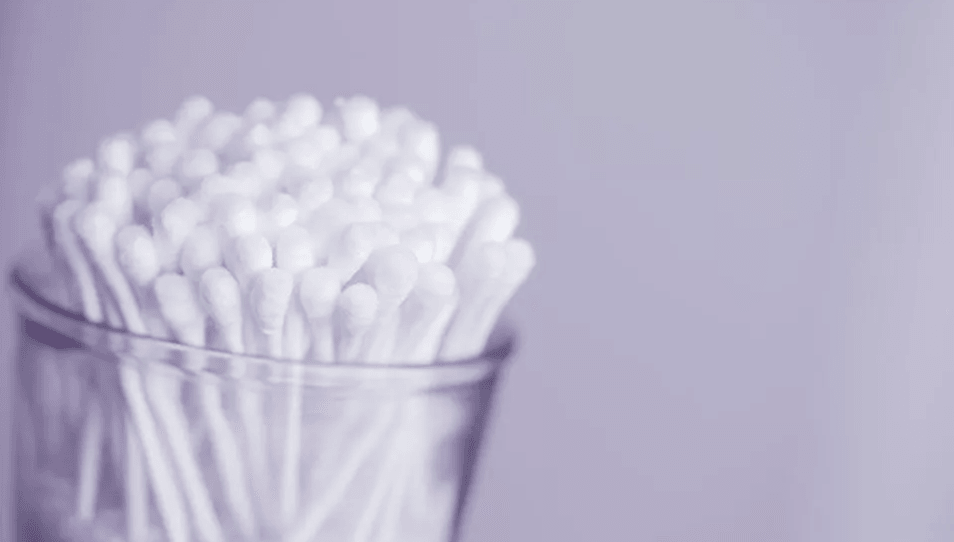 Instead of cotton swabs, ear drops are preferable (Q-tips).
You could think that ear syringing is a better option, but this is not the case.
Ear drops of baby oil, mineral oil, glycerin, or diluted hydrogen peroxide are the best approach to deal with excess ear wax (3 percent solution). Earwax removal kits are available at your local drugstore. But make sure you consult your doctor before trying something new. We don't want you hurting yourself in an attempt to figure out how to keep earbuds in ears.
Cover your ears using ear warmers
Wearing ear warmers over your headphones is another viable approach. This gives the ears greater protection and actually keeps the earphones in place.
To make it comfy, use ear warmers that aren't too tight, especially with bulkier earphones.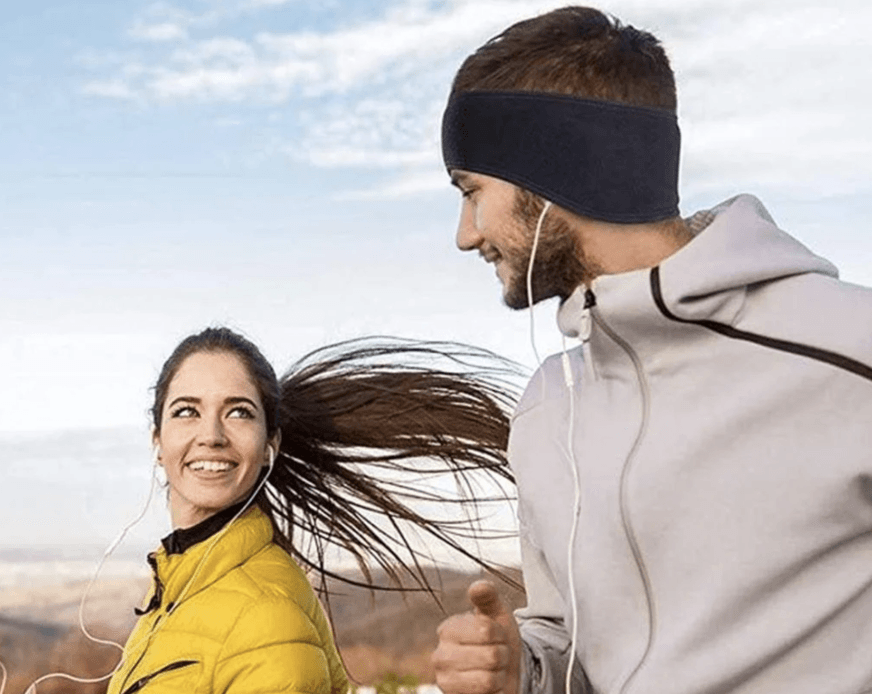 But obviously, this is only a good idea if the weather is on the colder side. Imagine having your ears covered in the summer while you're jogging. That wouldn't be so pleasant now, would it? 
Try to keep your ears sweat-free
Sweat might be entering your ear if your earphones are sliding during a workout. To absorb sweat and keep it out of your ears, wrap a sweatband around your head. In colder weather, a fleece ear cover will keep them warm and dry while allowing sweat to escape through the top of your head.
Try some third-party to if you're wondering how to keep earbuds in ears.
If the options above aren't really working for you and you still don't know how to keep earbuds from falling out, why not go for this option? For a better fit, you may utilize a variety of third-party accessories.
Replacement earplugs: These are available in a variety of materials, including memory foam, for a specific fit and noise reduction. You can also acquire earplugs that are custom-made for your canal, and some earbuds come with different-sized plugs for a better fit.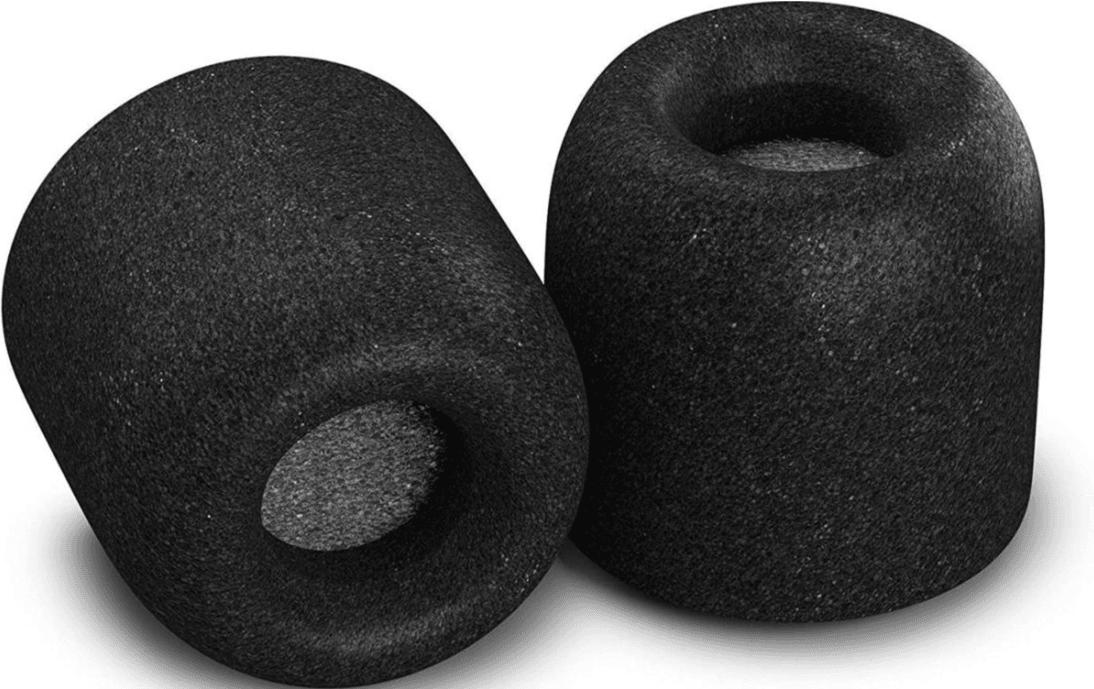 Ear hooks:

These are soft rubber hooks that attach to your earphone and then fit over the ear to hold them in place.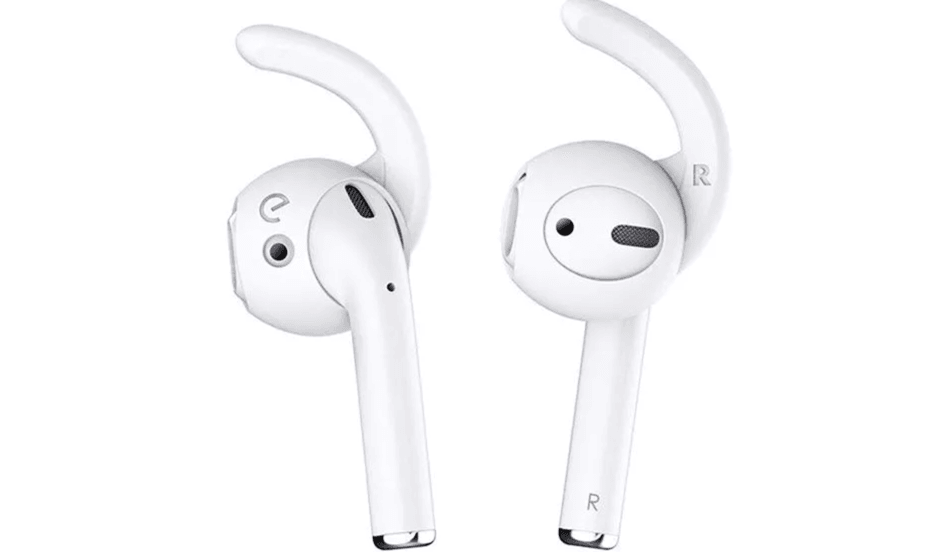 Ear wings:

These attach to the earbud but provide a soft rubber "stop" within the ear, similar to ear hooks.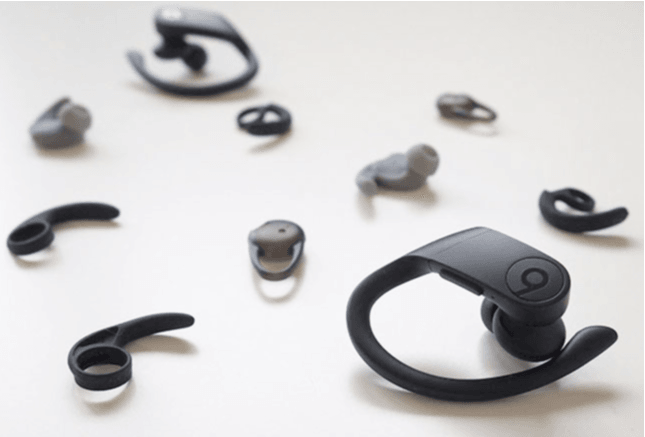 Connecting cord:

You may want to try this if the above options irritate your ears. This is a rubber or metal connecting wire or chain that hooks to each earbud and loops around your neck. Some will have alligator clips to secure it to the back of your shirt, preventing a fallen earbud from dragging its companion down with it.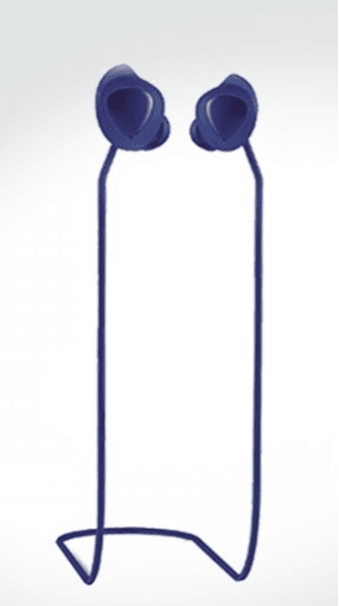 Conclusion
So were you able to get an idea about how to keep earbuds from falling out? Finding the ideal solution might be difficult due to the distinct and unique character of each person's ear shape and jaw location. That doesn't mean you have to put up with the inconvenience or poor sound quality. 
Imagine being entirely absorbed in outstanding audio quality while listening to music or playing a game without the risk of your earphones slipping out.
So which one do you think is the best way to keep earbuds in ears? You may now have a much better experience by utilizing one or a combination of the strategies we have mentioned here. Everyone's ears are different, so try out all of the above suggestions until you find the perfect fit.