Sure, nothing can ever really replace the experience of playing your electric guitar, now can it. But let's be honest, you can't always be doing that. 
What if you suddenly think of a tune in the middle of the night and know you just have to play it at that very moment. Or what if you're not home. 
And apart from this, at times, we are home, and it's not the middle of the night, but we have a roommate, and we don't want to get on their nerves, right? We have all been there, haven't we?
But do you really have another option? Of course, you do. And we are here to help you know how you can do this. 
You can now learn how to play electric guitar with headphones. And no, you won't be losing your tone. We're going to go over the different options you have, and you can decide what works well for you. 
But before you actually begin looking for ways to connect it, find out if you have the best headphones for guitar amps.
Connecting Your Headphones to the Guitar Amp
You can connect headphones to your amp, but the way of doing it can vary depending on the type of guitar amp you have. Most modern guitar amps have headphones out options, making this step very easy. All you have to do is plug your headphones into the headphone jack, and you're good to go!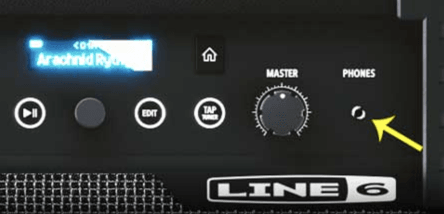 But wait right there, for some of you, it may not be that easy. Some amps have a 6.3mm output, so your headphone might not actually connect. 
But don't panic just yet. All you have to do is spend a few dollars and buy a 3.5mm to 6.3mm audio adapter so that your headphone can be connected to your guitar amp. 
And one more very important thing. Once you have connected your headphones to the amp, turn the master volume down and then slowly bring it up so that you don't end up blasting your ears.
What we like about it:
A cheaper option, even if you have to buy an adapter. 

The setup does not take much time or effort.
What we don't like about it:
A useless option if your amp does not have a headphone output

Does not work if you have to travel
Connecting Your Headphones to Your Smartphone
Connecting your headphones to an amp is not really of any use if you want to play while you're traveling. 
To do this, you first need to get an audio interface, allowing you to connect your guitar to your smartphone. And yes, when I say smartphone, I mean tablets, PCs, and Macs as well. Now that you have the adapter, you know how to play electric guitar with headphones.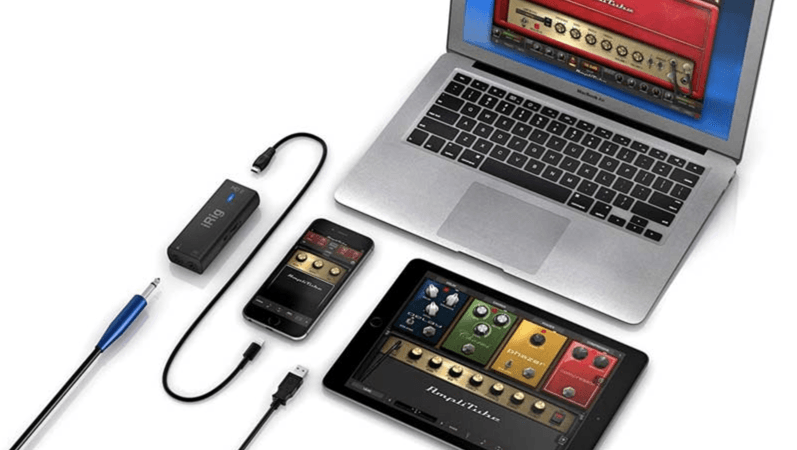 What we like about it:
You can use this method wherever you are

Interfaces that you need to buy are normally cheap

If you have the right software like BIAS FX or AmpliTube, you can produce quality tones 

You do not need an amp for this
What we don't like about it:
If you are an Android user, there are really many options you have when it comes to getting an interface

This cannot be used with your existing amp
Connecting Your Guitar to a Multi-Effects Pedal
For this method, if you already have a multi-effects pedal, you're in luck because that is all you will be needing. And if you don't, this option is still feasible for you. A headphone output is common in most modern multi-effect units. 
This uses a 6.3mm output, which means that depending on your headphones, you'll require an adaptor. If your multi-effects pedal has an amp modeling feature, it will very certainly include a headphones output.
Look for a connection option to connect the pedal to a mixer, even if it isn't labeled as such. This is commonly referred to as line out.
What we like about it:
It allows you to use many tones and settings

Portable, unlike a guitar amp

You can record by connecting this to a PC or Mac
What we don't like about it:
If you are looking for something portable, there are other better options.

Headphone outputs are not available on all multi-effects pedals 

If you don't have one already, buying a new one can be expensive,
If you already have a multi-effects pedal, you might be able to practice or perform in quiet by using this option. Your pedal most likely has an output that may be used with headphones.
However, buying a multi-effects pedal only to play guitar with headphones is a bit too much if you don't already have one. It would be a better idea to try the other options instead. 
Connecting Your Guitar to a Micro Guitar Amp
Technology has come a long way, and one thing that highlights this is the new micro guitar amps available. These tiny battery-powered guitar amps are perfect for guitarists who are always on the go.
Depending on the model, you may also have the option of taking them everywhere with you and also playing them, even without headphones.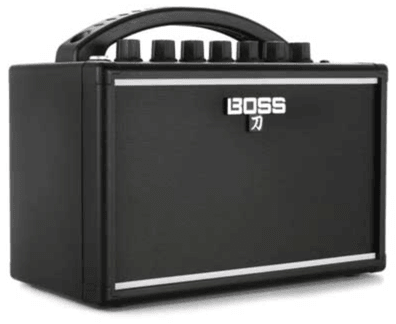 You have a lot of options to choose from since you can buy the model which suits your playing style. 
What we like about it:
Handy and portable

It can be used both with and without headphones

You will not be dependent on adapters

You also have the option of connecting to an aux
What we don't like about it:
When compared to the other options mentioned, the sound quality is not that good

There is little control over the guitar tones and effects
To make the experience even better, make sure you have the best headphones for bass guitar.
Conclusion
So there you have it, guys. We just gave you some of the best options you have if you were looking to find out how to play electric guitar with headphones. It all comes down to your preferences, what you are actually looking for, and the amount you have to pay. So the next time you're on the road and want to play, do not hold yourself back.