Be it a good movie or your favorite music, some things just don't sound right when you don't have enough bass. It's what makes the experience far more pleasurable.
You might have ended up turning the sound off, annoyed by the missing element. But worry not! We know exactly how to boost bass on windows 10 or 11, and we are not going to keep it hidden from you.
Learn How To Boost Bass on Windows 10 or 11
First of all, if you're just getting into stuff like this, it's important to know the basics, like learning how to make your headphones louder.
In order to solve this problem, there are three methods you need to follow, in the exact same order that they are suggested here. For this, you will need to:
Have an updated sound card driver

Change the sound enhancement settings

Install software to boost the bass
Now let's go over them one by one.
Have An Updated Sound Card Driver
The driver acts as a form of communication between the computer's operating system and programs and hardware devices. If your driver is outdated or has been corrupted, your hardware device will not function properly.
That is why before you explore other solutions, it's a good idea to make sure that your driver is updated. If Windows doesn't update your driver for you, your best shot would be to uninstall, reinstall, and update it yourself. 
To do this, you need to do the following:
Find out which audio driver suits your PC

Install the audio driver that is recommended for Windows 10

Use the Device Manager to update the sound driver

Use Windows Update to update the sound driver
Find out which audio driver suits your PC
Installing the correct audio driver on your computer might be the difference between having great-sounding audio and having no sound at all. It enables your PC to provide the best possible sound as intended by the manufacturer.
Here's how to figure out which audio driver is on your computer:
Select

Device Manager

by right-clicking on the

Windows Start button

.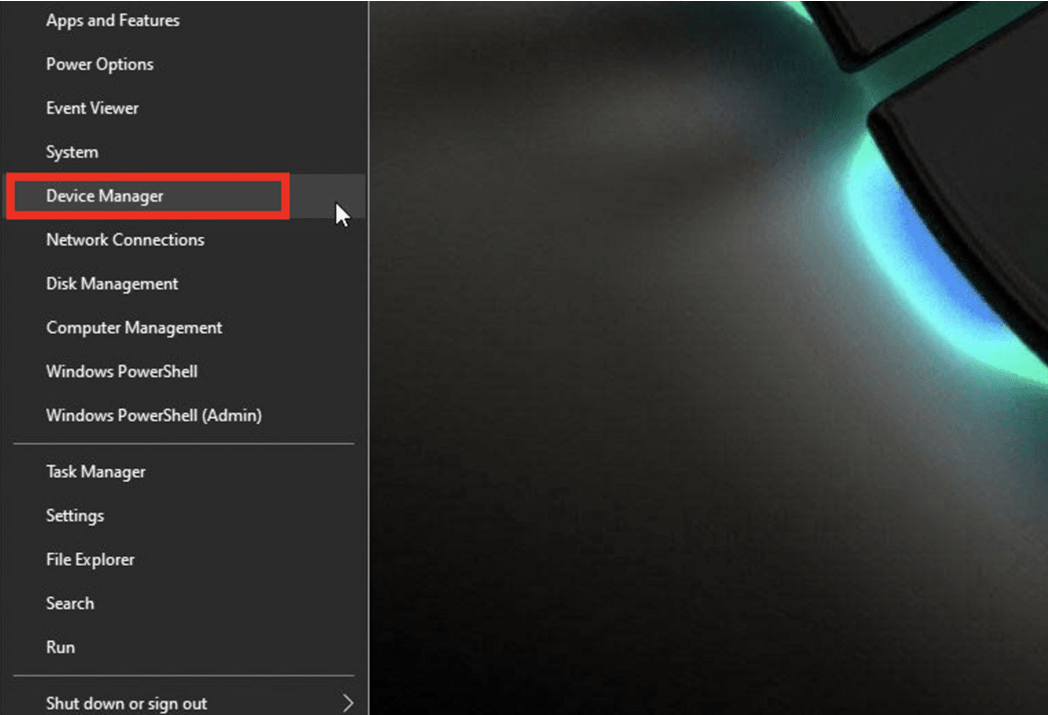 Go to the

Sound, Video, and Game Controllers

option.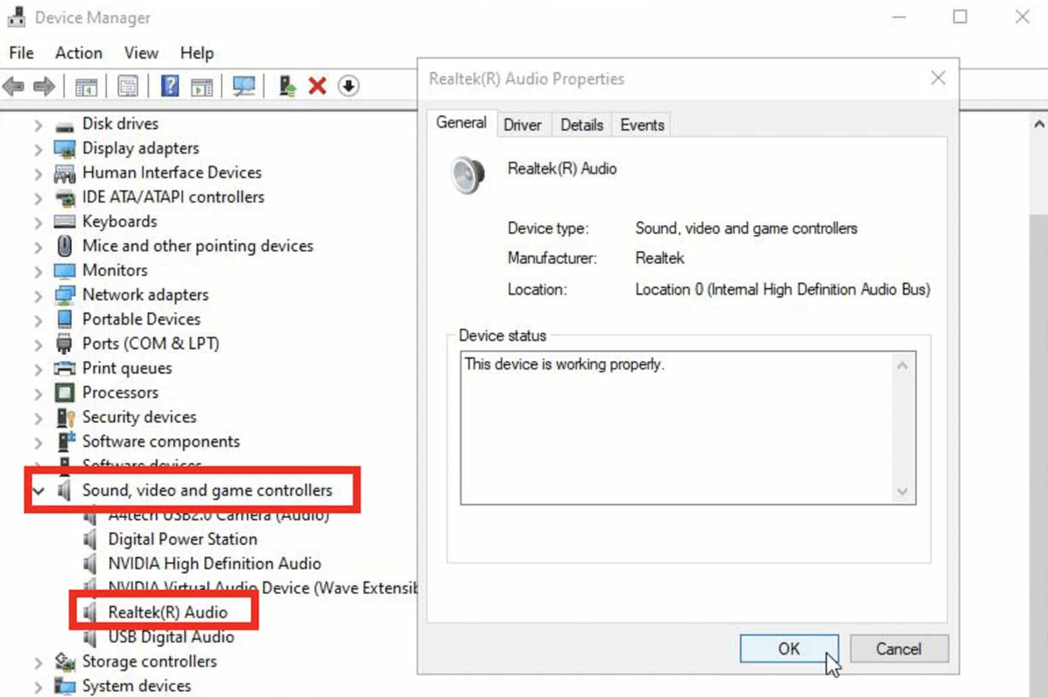 It will display a list of all audio-related devices that you have connected to your computer. For additional information, double-click on it.
Install the audio driver that is recommended for Windows 10
We all may remember a time when we used to get a CD or DVD that was used to install all the drivers our PC needed. Although a few manufacturers still do this, it's not really that common anymore. So that means we're doomed, right? Well, not really. You can now easily download these drivers from the manufacturer's website. 
Use these steps mentioned below to download the latest audio drivers straight from the manufacturer's website:
Since you already know which audio driver your computer needs, go straight to the manufacturer's website.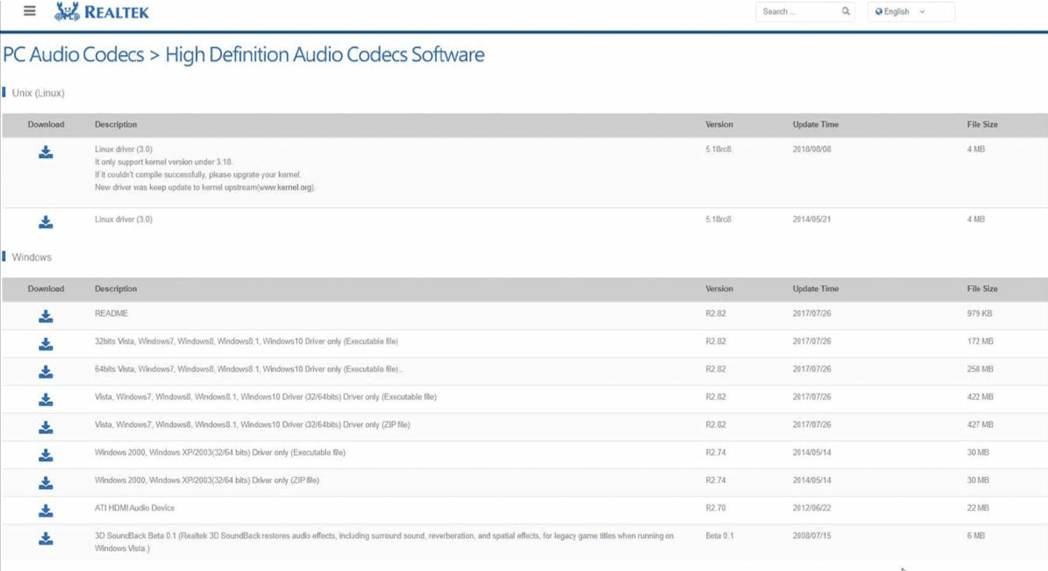 After searching for the version that is compatible with your PC, click the download button.

When the file has been downloaded, open it and follow the instructions given to install the drivers.

Once this is done, restart your computer.
Use the Device Manager to update the sound driver.
If you used the steps above to obtain and install the right audio drivers, the next step is to update them.
You can do this by two different methods. The first is through the Device Manager in Windows.
Select

Device Manager

by right-clicking the

Windows Start button

. 

Select

Sound, Video, and Game Controllers

from the new window.

Select the

audio driver

by double-clicking it. 

Select Update Driver

under the

Driver

tab.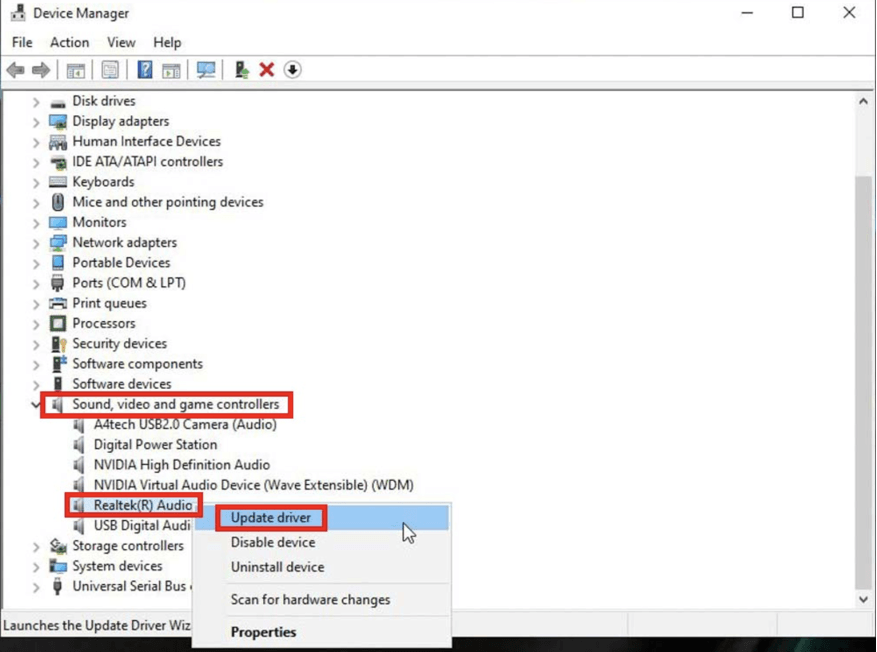 On the following screen, you'll be asked whether you want to manually look for the new driver software or if you want Windows to do it automatically. If you were unable to download the drivers using the methods above, choose the manual option.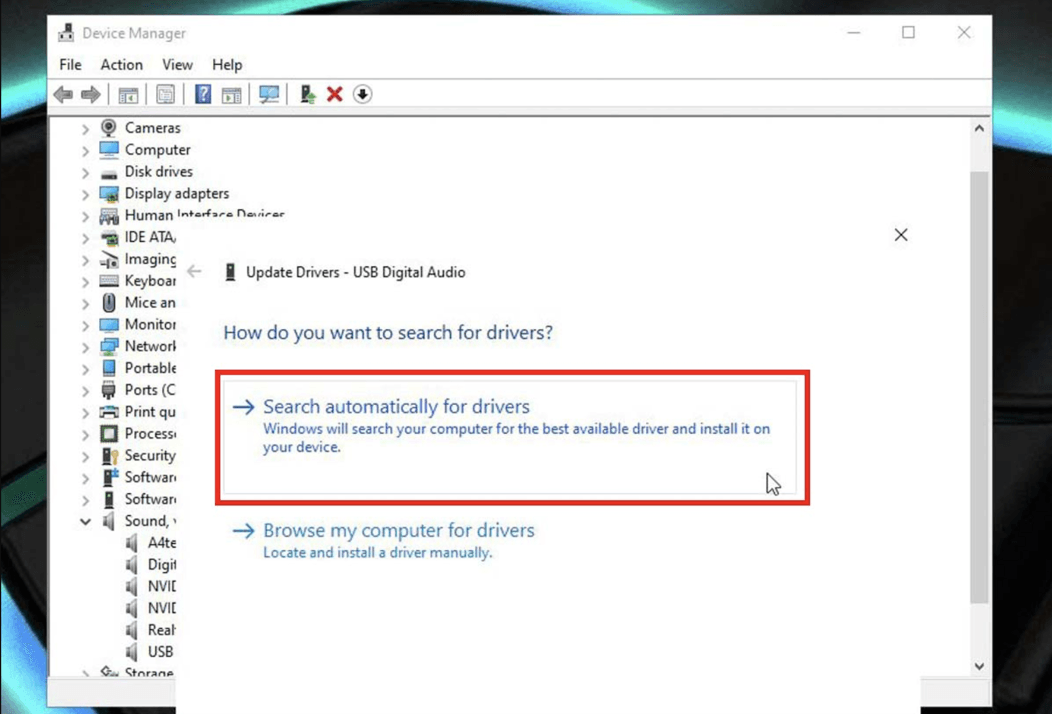 Use Windows Update to update the sound driver
One of the most reliable ways of having your drivers updated is when Windows 10 does this through the regular Windows Update. This is because, this way, the drivers that are installed are tested and signed by Microsoft.
To do this, follow the steps given below:
Select

Settings

from the Start menu in the lower-left corner of the desktop.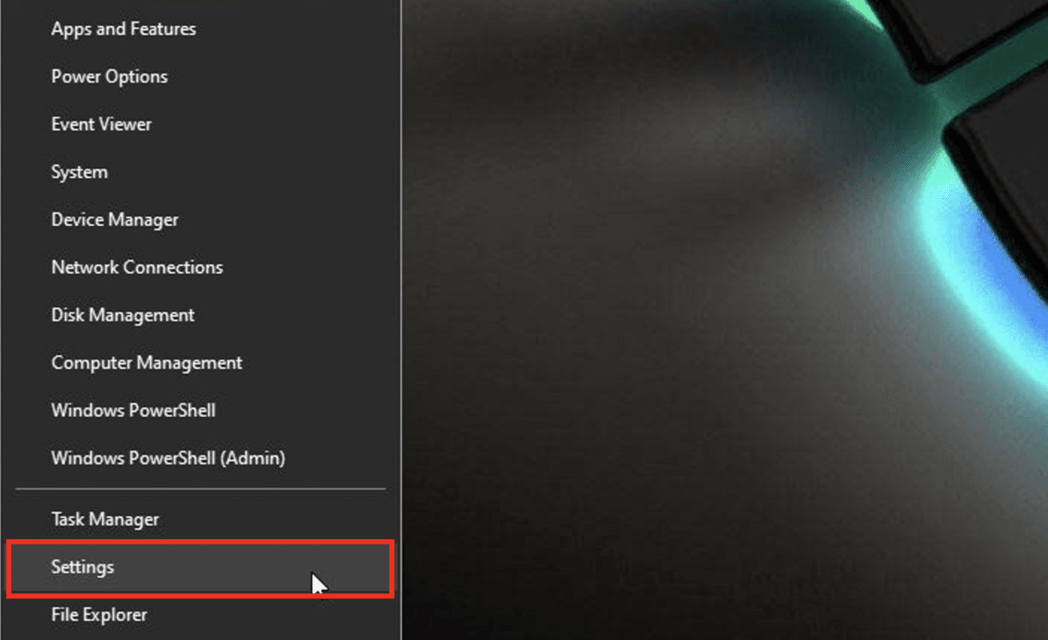 Select

Update & Security

on the following page.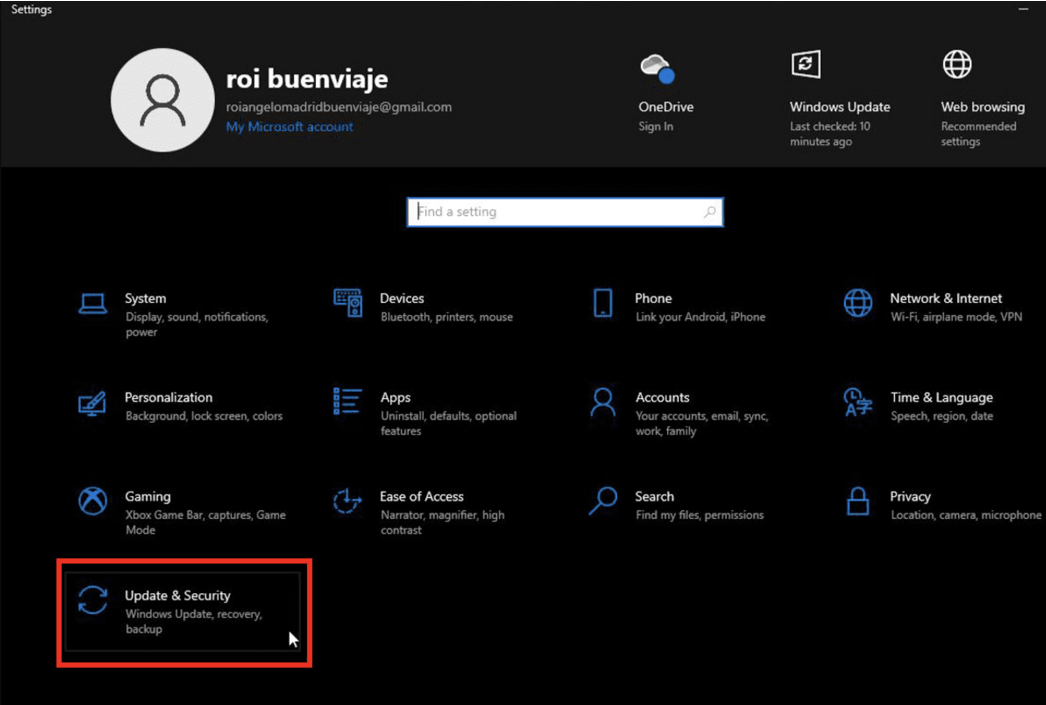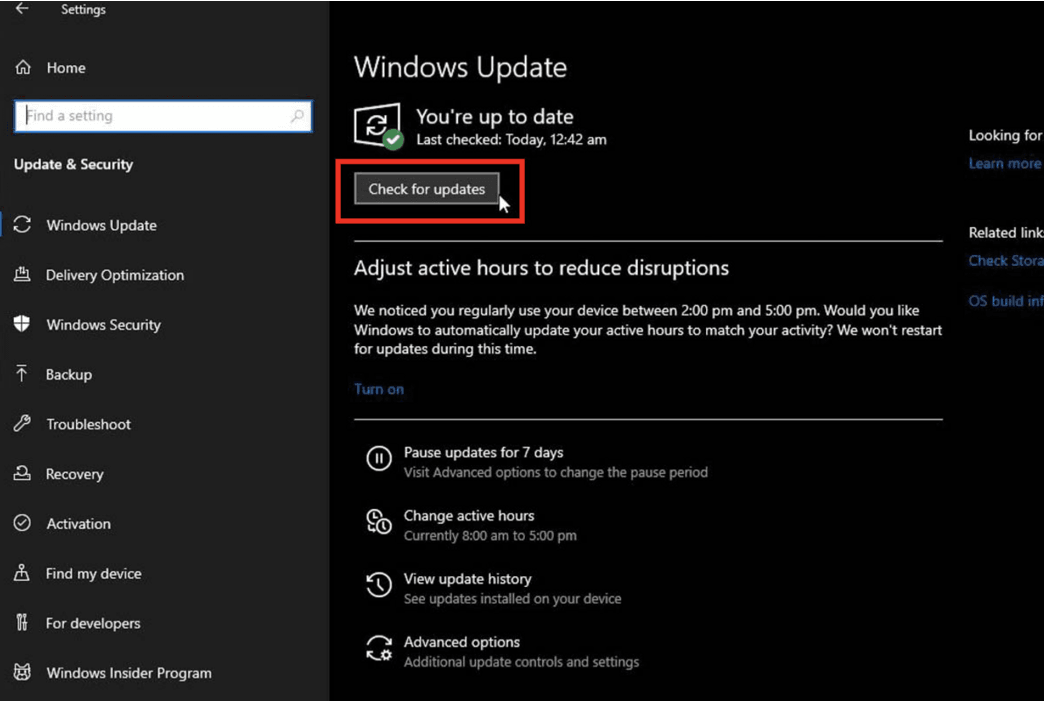 Update Windows by following the on-screen instructions. If your machine's audio drivers need to be updated, Windows will do it automatically along with the rest of the system.
Change the Sound Enhancement Settings
If you are wondering how to boost bass on Windows 10 or 11, you would be delighted to know that Window 10 has features inbuilt that you can use to boost your PC's bass. This is done through the Sound Settings.
This is how you can do this:
In the right corner of the taskbar, you will find a

Sound Volume

icon. Right-click on it.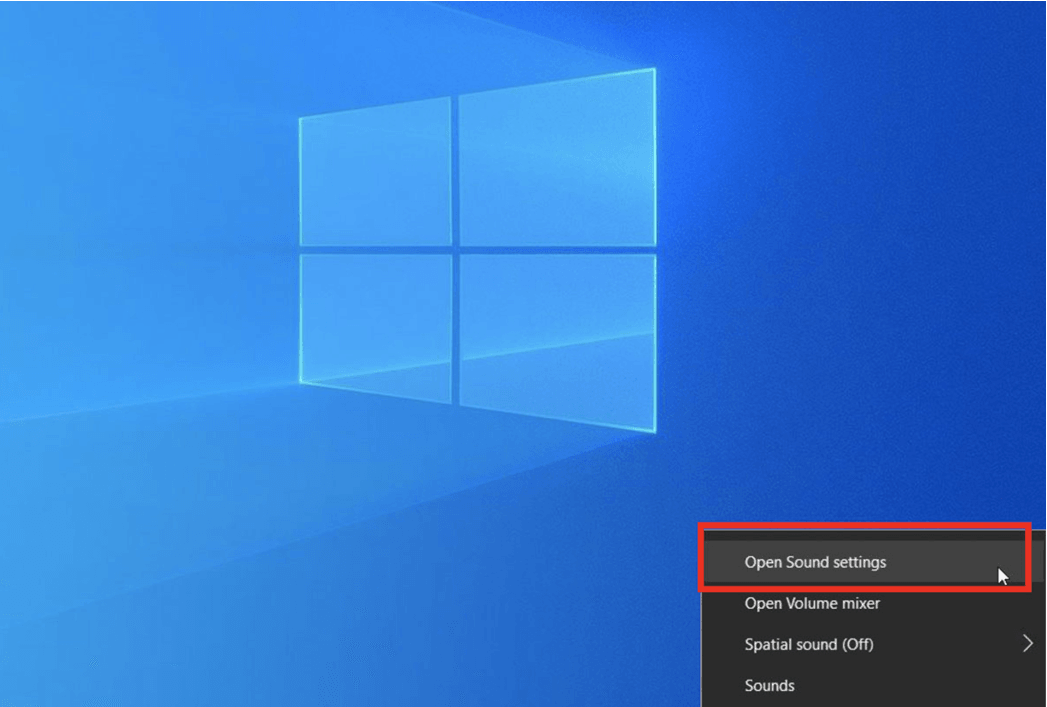 Click on

Open Sound Settings.

A new window will appear now. Under

Related Settings,

select

Sound Control Panel.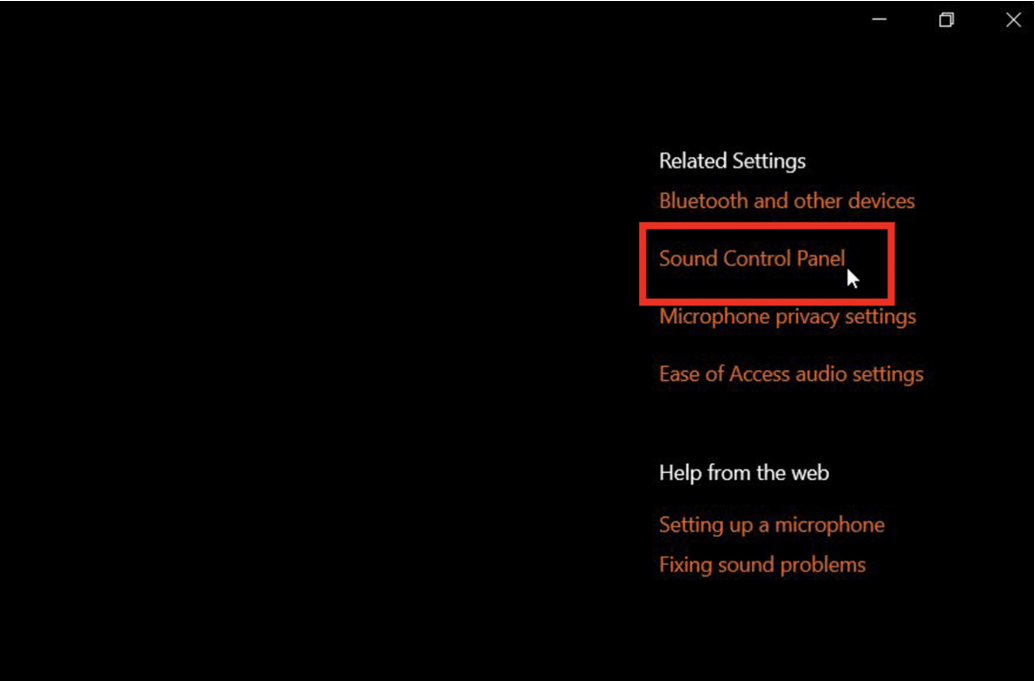 Click on your speakers or headphones under the

Playback

tab. Once you have done this, select

Properties.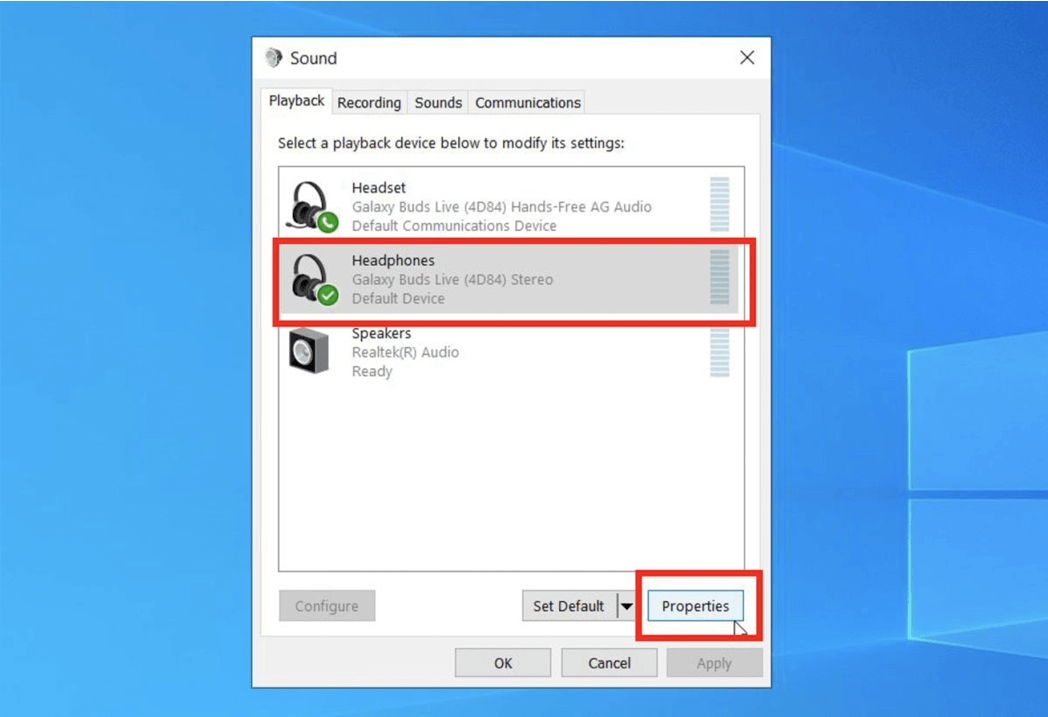 Now, open the

Enhancements

tab.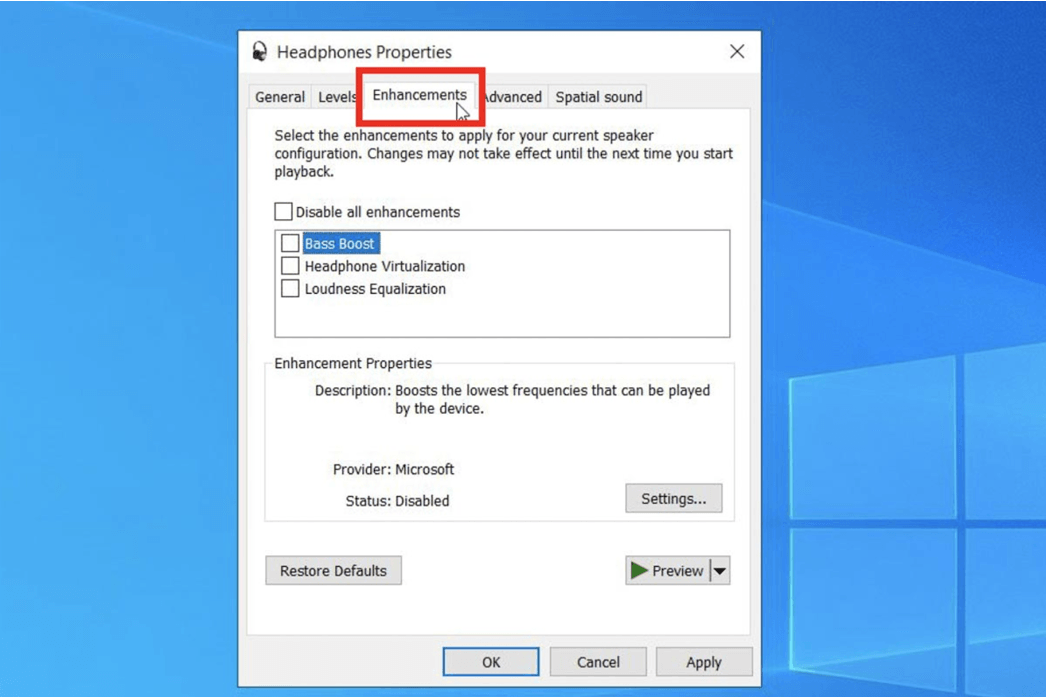 Select the checkbox next to the

Bass Boost

feature, which would most likely be the first one on the list.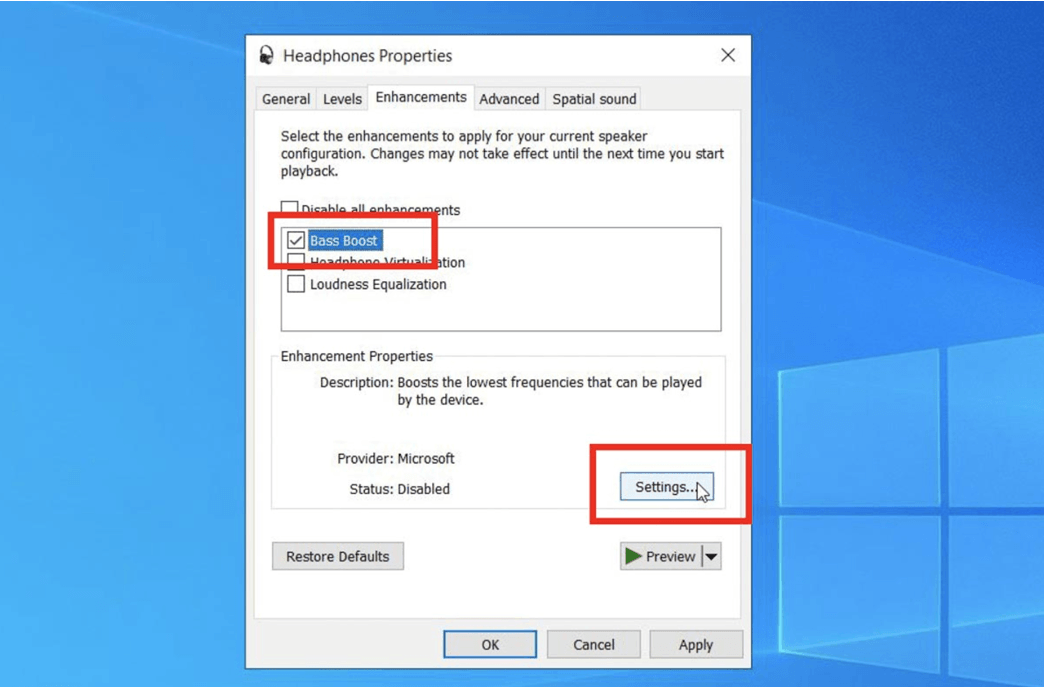 Now, click on

Settings

below it.

A new window will pop up where you adjust both the frequency and the bass.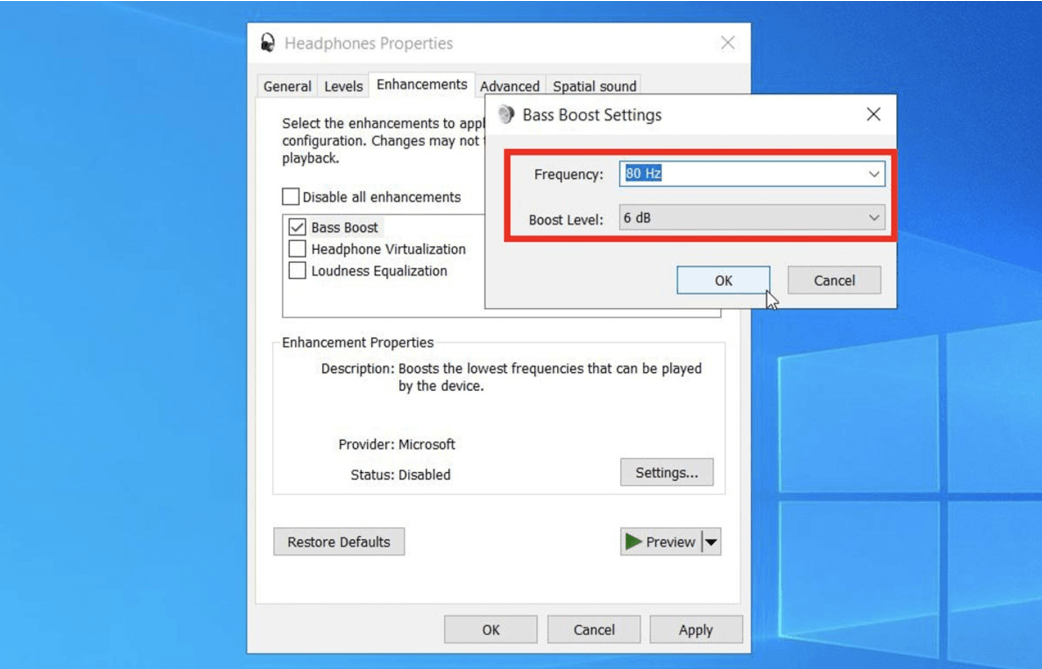 Adjust the bass to how much you want it to be.

 Select

OK

and then press the

Apply

button to have your settings saved.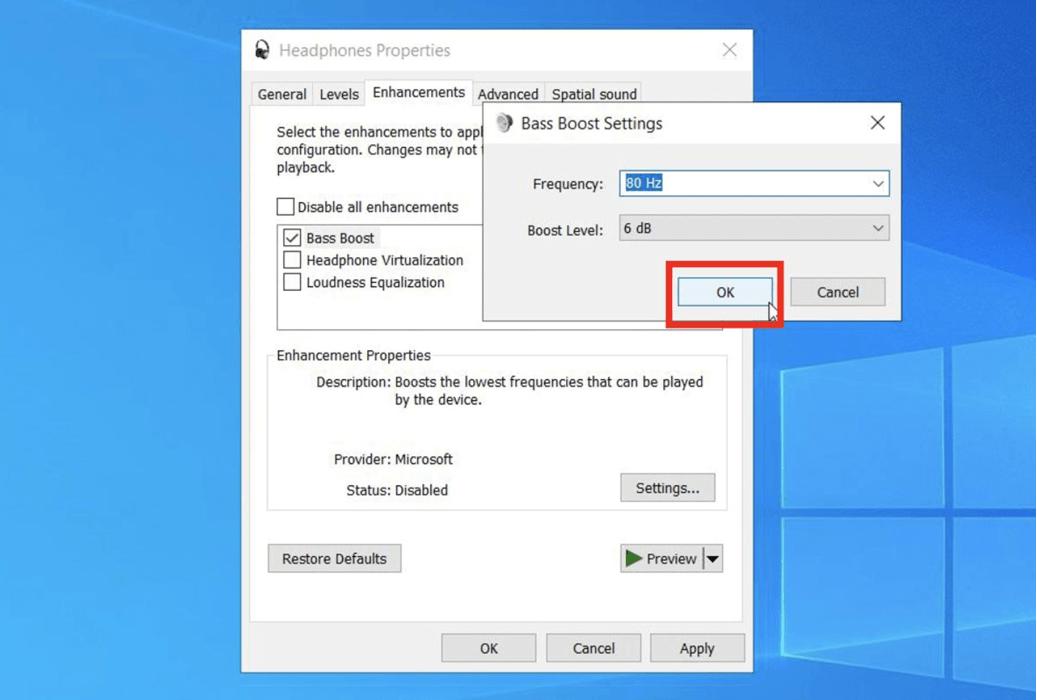 Install software to boost the bass
So, you have tried all the steps mentioned above, and you still feel that the bass output is slightly lacking. Should you give up now when you have come so far? Of course, not. We have a list of third-party software that can be used so that you no longer have to worry about How To Boost Bass on Windows 10 or 11.
Look no farther than FX Sound for an easier solution to increasing bass in Windows. It has a straightforward interface for customizing various features of your sound. Not only does this include the bass, but it also includes other elements like the 3D surround, ambience, dynamic boost, and clarity.
This software includes settings for movies, music, and gaming, among other things, also adding an 'Effects' tool to amp up the bass even further.
However, because there are only 9 frequency bands that may be altered, the increments by which you can adjust the EQ are limited. Still, if you want a basic yet strong bass booster for your Windows, FX Sound is a wise option.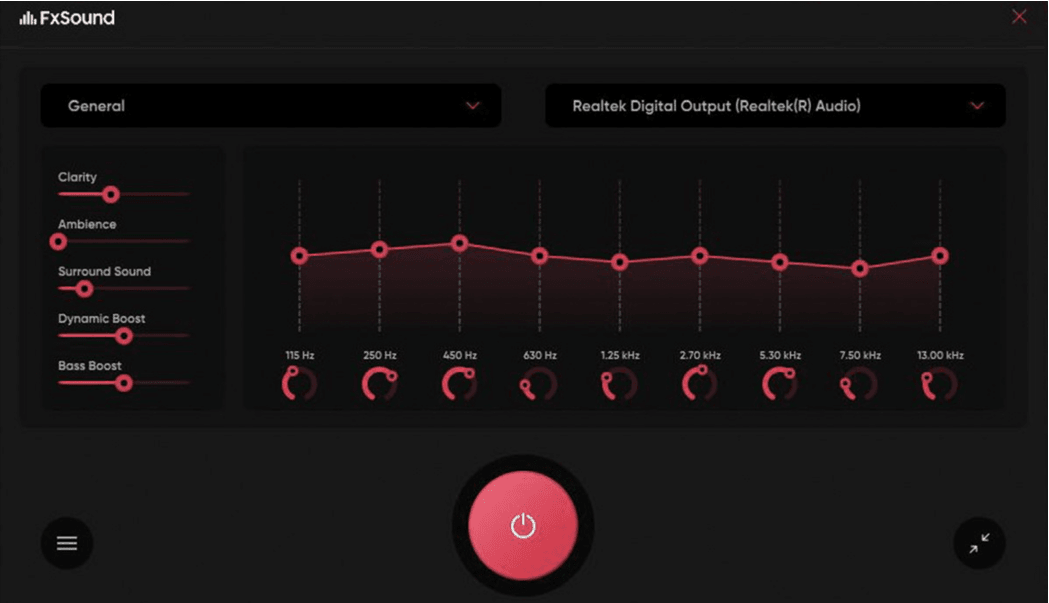 Bass Treble Booster is a great choice for bass boosting software since it allows you to change the bass frequency response from 30 to all the way up to 19K Hz. It also has the normal equalization settings, including numerous bass boost entries. This software functions as an audio file converter, too, allowing users to convert between several audio formats like AAC and MP3.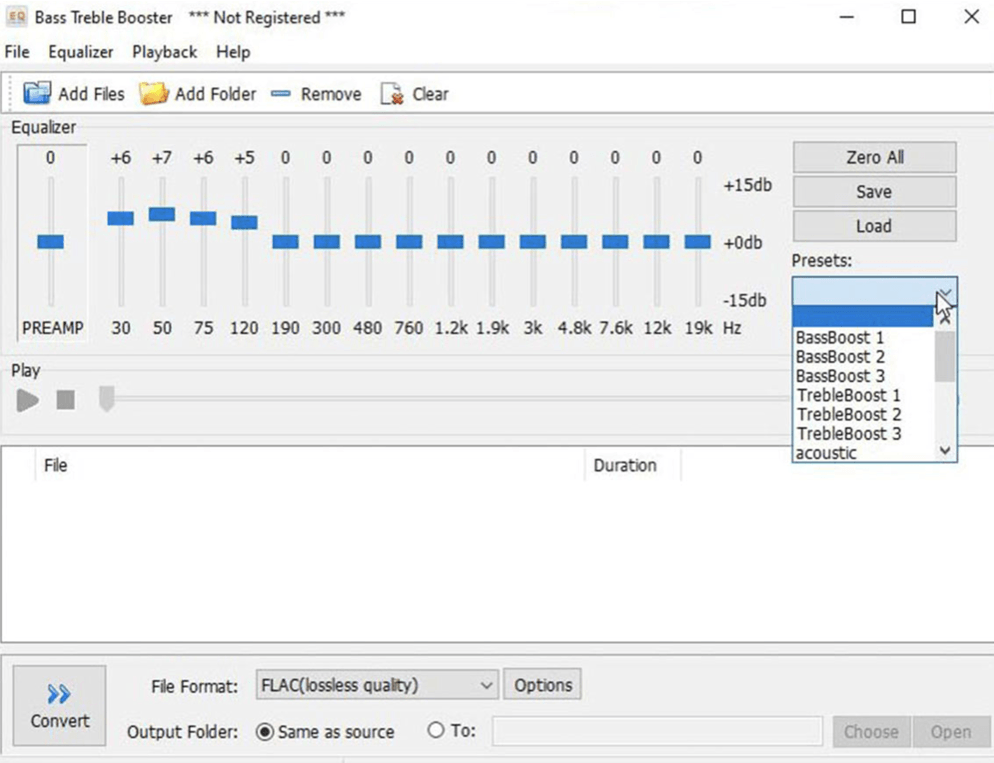 Many of the capabilities found in other premium audio enhancement programs may be found in this open-source project. It has an endless number of filters and equalization settings, in addition to enhancing bass output.
A Peace GUI is a free add-on that offers Equalization APO, an easy-to-use interface, and audio mixing capabilities. When you pair Equalizer APO with this, you've got a powerful equalizer program for Windows that increases your computer's bass, that too, for free.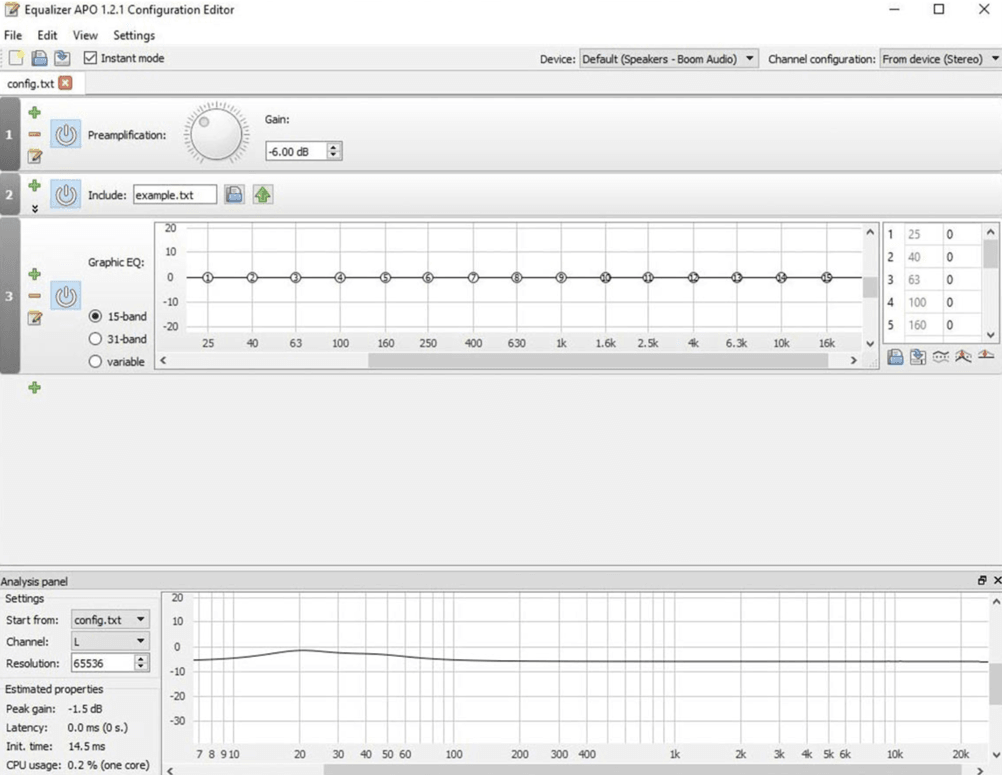 Conclusion
Some of you may be thinking that having too much bass may not be such a good idea. If you are one of them, then we're here to help you know that Is Bass Bad for Your Ears?
We all are well aware of the fact that to have a great listening experience, whether it's while watching a movie, listening to music, or gaming, having the perfect bass is essential. And if we are really into this stuff, we have probably wondered how to boost bass on Windows 10 or 11 many times.
Do try out the tips and tricks we have mentioned here so that you don't have to compromise your listening experience any longer!