Wondering if it's possible to play music through speakers and headphones simultaneously? It is! And what follows is an easy guide to do so, with PC or MAC.
How to Play Sound On Speakers and Headphones on PC
There are 3 primary ways to get sound from both your headphones and the speakers on your PC:
Adjusting your sound settings

Using a third-party audio mixer software

Using an audio splitter or Bluetooth adapter to send the audio to two or more devices.
Adjust your Windows settings
This is by far the simplest way to get sound from both your speakers and headphones on your PC. Just follow these easy steps:
STEP 1
Connect your headphones and speakers to your PC. Your headphones will connect to the Audio Out port and the speakers, to the Audio In port.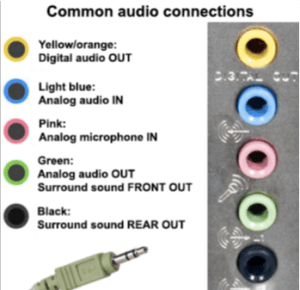 STEP 2
Right click on the volume icon

  on the taskbar. This will bring up a menu. Click on Sounds to open up Sound Settings.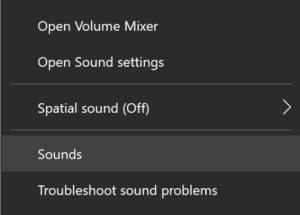 STEP 3
Under the Playback tab, click Speakers so they are highlighted in blue, and choose Set Default. If the box is already greyed out, as in the example below, then they are already set as default.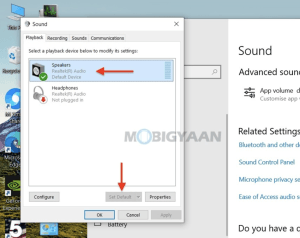 STEP 4
Under the Recording tab in the same box, right-click Stereo Mix and click on Properties.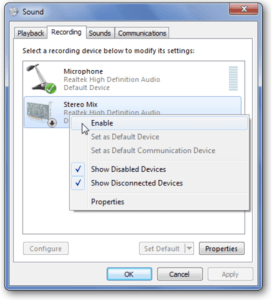 STEP 5
In the next box, under the Listen tab, check the box that says Listen to this Device.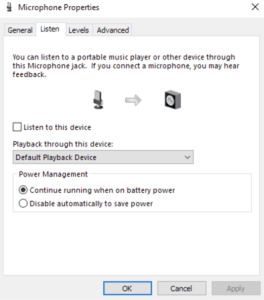 STEP 6
Below the check box, you will see Playback Through This Device and a drop-down menu. Select your headphones from the drop-down menu.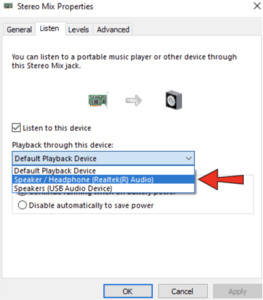 STEP 7
Click Apply to save the changes and enjoy music from your headphones and speakers at the same time.
If the changes you have made do not take effect, then check that your sound card drivers are up to date.
While this is the simplest and most straightforward method to connect both speakers and headphones, this method is not without its flaws. You may experience a slight sound delay between the primary and secondary device. There may also be some issues with volume control and sound quality.
Use an audio mixer app
As explained above, you may experience some sound quality issues by simply changing the Settings on your PC. If you are after professional-quality sound, then you will need to bring the bigger boys in- the audio mixer.
Audio mixing software allows you to adjust the sound properties of your PC for better sound quality.  
It detects the audio devices connected to your PC and lets you choose which devices to send the sound to. There are a bunch of audio mixer apps that can help you do this.
Audacity is the original, free audio mixing software and is still regarded as the best for both IOS and Android.  The interface will take a little getting used to, but Audacity will allow you to play music through speakers and headphones simultaneously without issue.
Ocenaudio includes all the same features as Audacity, but users report the interface is a lot easier to use.
Audiotool is another great free audio editor. Unlike the other 2 above, this one only works online through the website. This means you don't have to download anything to your PC.
Using an audio mixer removes the delay you can get between the speakers and the headphones if you use the first method above. An audio mixer will also provide much better sound quality, but if you want to be able to use Premium features you will likely have to use a paid version. An audio mixer will only work when the platform or app is open and in the case of Audiotool above, only for use on the website.
 Use an audio splitter or Bluetooth adapter
An audio splitter offers a simple, plug and play option to your audio issues. Simply plug the splitter into the audio port of your PC and plug the headphones into one port and the speakers into another one.
You can either choose from a Y splitter, which allows you to plug in 2 separate devices. Multi-splitters have multiple ports that let you connect more than 2 devices simultaneously.
If your headphones and/or speakers are Bluetooth, then you will need to use a Bluetooth adapter. You connect the adapter to your PC and then connect your speakers and headphones to the adapter.
Beware of using cheap splitters and adapters as this will affect the sound quality.
How to Use Speakers and Headphones on Mac
Most things are easier in MAC and using speakers and headphones simultaneously is no exception. You can either adjust your MAC's settings or use an audio splitter. Just follow the simple steps below.
Adjust your Mac's settings
In order to play speakers and headphones on your MAC simultaneously, you will need to set up a Multi-Output Device. To do this, you will need to access your System Preferences. This method works with wired and Bluetooth devices. You can even use one wired and one Bluetooth, just follow these steps:
STEP 1
Connect your speakers and headphones to your MAC. If they are wired, simply plug them in. If they are Bluetooth, then you will need to go into your system preferences and connect your Bluetooth device. To do this go to System Preferences> Bluetooth. Make sure your Bluetooth is on. From the Devices menu in the Bluetooth settings, choose your device(s) and connect it.

STEP 2
Head to Finder and open Applications.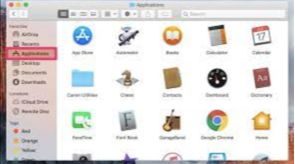 STEP 3
Head to Utilities and open Audio MIDI Setup.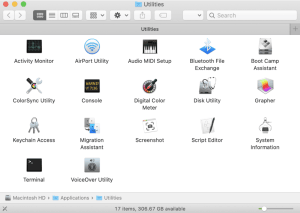 STEP 4
On the lower-left corner, click the + button and select "Create Multi-Output Device"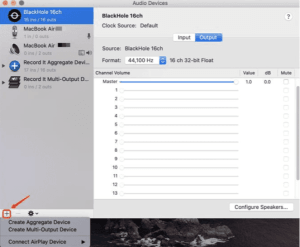 STEP 5
On the left panel, right-click Multi-Output Device and choose Use This Device for Sound Output.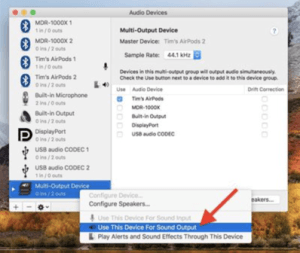 STEP 6
On the right panel, check the boxes next to the devices you want to use. If one is a wired device, check the box next to Built-in Output.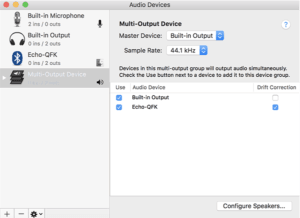 STEP 7
Choose a Master Device from the drop-down menu.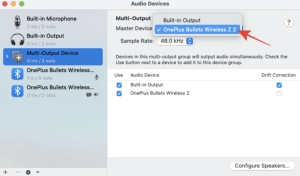 STEP 8
Choose a Slave Device by checking Drift Correction.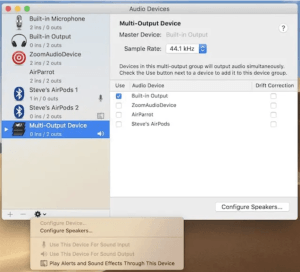 STEP 9
Head to System Preferences and open the Sound panel. Under the Output, choose Multi Device Output.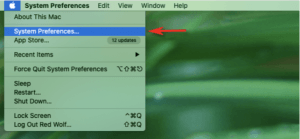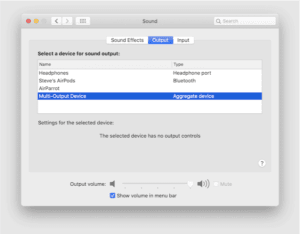 This is a simple and straightforward process that allows you to use multiple audio devices simultaneously. It works for both wired and Bluetooth devices, and can even be used for one wired and one Bluetooth device. The only issue with this method is that it can be difficult to control the volume. You won't experience these issues with the second method.
Use an audio splitter
Creating a Multi-Output device easily allows you to use 2 different audio devices at the same time. But if you need to use more than 2 devices, an audio splitter is the way to go.
This does require a purchase, but the cost is modest. This is the easiest and most convenient way to use multiple audio devices simultaneously.
The Final Take…
Hopefully one of these solutions has solved your audio issues and you are now listening comfortably with multiple audio devices connected. 
Whether you are into classical music TOP 10 Best Wireless and Bluetooth Headphones for Classical Music or you are in the mixing and mastering The Ultimate Guide to Buying Headphones for Recording Vocals business, a decent set of headphones are essential. This is especially true when doing things like using multiple audio devices. We have compiled TOP lists for both,so go and check them out!